Germans and Finns - Look to your opposition parties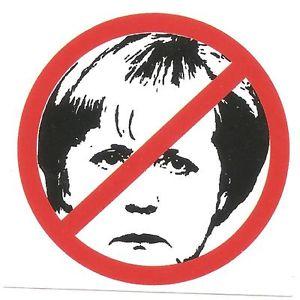 From Reuters:
The right-wing opposition Alternative for Germany (AfD) party said on Monday Germany should shut its borders to asylum-seekers who want to enter via safe third countries, as well as reinstate border controls to stem a record influx of refugees.
The AfD, which is hovering between 3 and 4.5 percent in opinion polls, issued a proposed program that stipulates: "The right to apply for asylum in Germany should be revoked."
To "bring the asylum chaos under control", the AfD proposal said asylum seekers would have to apply in German embassies in their countries of origin or to EU or U.N. institutions. If war or other circumstances made that impossible, they would have to go to a German embassy in a neighboring country.
Any attempts to apply for asylum at German borders should be rejected and the people concerned refused entry, the AfD said. This is the illegal decision Angela Merkel made, to allow these foreign invaders to simply crash into Germany and she will allow many to remain. Where is the rule of Law?
Chancellor Angela Merkel's government has welcomed migrants and is letting Syrians seek asylum regardless of where they enter the EU, suspending normal rules and accelerating a flow of migrants north and west from the edges of the bloc.
A poll published last week showed half of Germans [are] worried the surging number of asylum seekers in the country is overwhelming them and authorities. The AfD said decisions should be made within 48 hours on applications and those who apply without proof of nationality and identity should be rejected within the same time frame.
Asylum seekers should only get non-cash benefits, [AfD] said.
The AfD also said all costs caused by asylum seekers should be refunded by countries from which the migrants traveled to Germany, or Brussels should reduce Germany's EU contributions by that amount. That's good too.
*       *        *
Finland's co-governing, nationalist Finns party on Monday rejected a European Commission plan to have member states take in assigned quotas of asylum-seekers among an influx of hundreds of thousands of migrants into Europe this year.
"The Finns party will not support this proposal, as it didn't back the previous so-called voluntary necessity," Sampo Terho, the head of the party's MP group told STT news agency.
He noted that Finland's new governing coalition parties had agreed before the summer that any EU plan to apportion asylum seekers country-by-country should be based on voluntary participation.
However, in July, Interior Minister Petteri Orpo of the pro-EU National Coalition party agreed to take about 800 asylum seekers from Greece and Italy, kindling a dispute with its governing partner, the EU-sceptic Finns.
"We said already then that this will only be the beginning (of quotas) if we take this path, and now it is happening sooner that one would have thought," Terho told STT.
This so-called "refugee / asylum-seeker" crisis is a scam dreamed up in the ongoing destruction of European nationhood and nationalism, and more importantly, it's racial integrity. If there is anything the Gloobalists don't want, it is nationalism with any meaning to it beyond cheering for your soccer team.
The word from Brussels and the decrepid old fraud Jean-Claude Junker is that EU nations will go along with their quotas in short order, he is sure.
BRUSSELS (Reuters) - The EU executive will outline new plans next week to share out refugees across European states as well as to speed deportations of unwanted migrants, the 28-nation bloc's migration commissioner said on Tuesday.
Dimitris Avramopoulos (A Greek [Jew? see comments] is EU Migration Commissioner!) told Reuters that new EU systems for processing asylum claims in Italy, Greece and possibly Hungary could involve detaining those rejected until they return home, as European governments strain to balance obligations to provide refuge with hostility among the public to mass immigration. What obligation? Show us when and how this obligation was created.

In an interview, Avramopoulos said the Commission would put new proposals to interior ministers at an emergency meeting on Sept. 14, five days after Commission President Jean-Claude Juncker is expected to outline plans to the European Parliament during his annual state of the Union address on Wednesday. After hundreds of thousands have already forced their way into Europe. Too little, too late, is the way these EU technocrats accomplish their aims.

Quote from Junker's speech: "We Europeans should remember well that Europe is a continent where nearly everyone has at one time been a refugee ...

Singing the same tune we're so familiar with in the United States: We are all immigrants. They don't come up with anything new. But the question is: Will our racial brethren continue to fall for it?