"Child survivor" Paul Argiewicz and the missing five years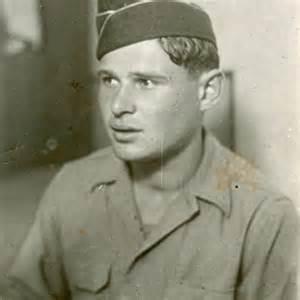 This is a picture of Paul Argiewicz used by the Wisconsin Veterans Museum but with no description. Considering he's wearing a US Army cap, it's probably from after 1950, which would make him over 25 years of age.
By Carolyn Yeager

Remember Paul Argiewicz? He's the guy I wrote about here because it's widely claimed he's in the Famous Buchenwald Liberation Photo, which he is not. But there are a lot of things wrong with the Paul Argiewicz story – claiming he is in that photo is just one of them.
Christine Miller has observed that being forced to believe holocaust survivor's stories has made Western man irrational. Paul's story is as irrational as any, especially when it comes to the simple act of adding together two-digit numbers. So let's start there.
Paul's date of birth is always given as Aug. 6, 1925 in Bielsko, Poland. He grew up using his mother's name, Argiewicz, because his parents were not formally or officially married. The family included two older sisters. He told interviewers that he only went three and a half years to grade school. He was arrested in 1941 by his own reckoning, when he would have been 16 years old.
However, his story, wherever you look either online or in the book about him, states that he was age 11 at the time of his arrest by the Nazis, and in his own obituary written or approved by his family it says "he was arrested at age 10 by the SS for stealing bread for his starving family in the Jewish ghetto." [The 'stealing bread for starving family' part is obviously fiction, but Paul was known as an emotional person who cried easily and liked to create as much emotional reaction in his listeners as possible.] Continue reading at Elie Wiesel Cons The World