At Pegida-Dresden, Tatjana declares German guilt complex officially over!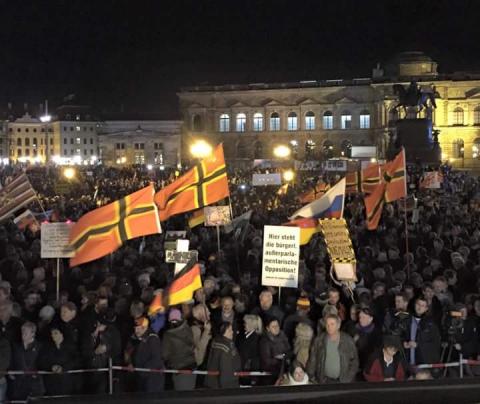 Another huge crowd at the Theater Square on Nov. 9, 2015, a special date in Germany for a variety of reasons.
On the anniversary of "Kristallnacht", for which Pegida naturally got criticized by the usual suspects for insensitivity in going ahead with its regular Monday night stroll when all Germans should be wearing sackcloth and feeling "deeply ashamed" … yes, on this evening of November 9th, Tatjana Festerling decided to speak about a German future without German guilt.
"Are you ready to let go? she asked the cheering crowd that packed the Theater Square. "Then I declare here and now, on November 9, 2015 – 70 years after the war – the German guilt complex for the 12-year Nazi rule has officially ended."
Great applause and calls of "Yes."
"We leave the past now and move on – and therefore an end to the artificial Nazi paranoia."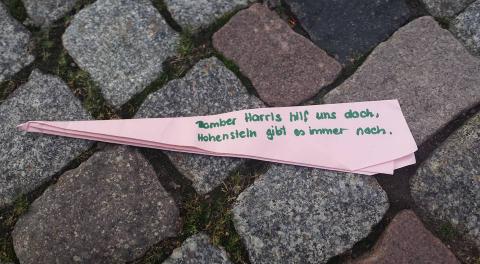 Festerling had already told about her experience at the rally in Hohenstein-Ernstthal on the previous Saturday, Nov. 7, saying children from a church nearby that was holding a counter-event threw folded colored-paper "planes" or "birds" in their direction [above right] with the same sentence on all: "Bomber Harris help us, they are still in Hohenstein." (free translation). She called it outrageous that a church would call for mass murder. She said that the wartime carpet bombing was a deliberate attempt to break the morale and the will to resist of the German population. Dresden had been one of the victims. "And now the resistance of part of the Germans is to be broken again. For this purpose the supposedly peace-loving do-gooders call on the inventor of carpet bombing for help, to erase us now." 

Very powerful speech by Tatjana Festerling. We will probably hear more about it.
Lutz Bachmann had called for a silent walk because of the special date, asking in his opening remarks for a "peaceful, grateful, reverent – and especially admonishing – walk," without [calling out] slogans. And that's what he got. He said "The European union of patriots is well on the way." And he promised some interesting speakers for next week.
The Epoch Times judged the crowd at "at least 25,000" while Deutsch Welle called it 6,000! The Dresden police will not give number estimates anymore for the Pegida demos, and the student statistics group didn't give one tonight either. Anyway, I didn't see it. Maybe they didn't want to lie.

Live stream on Youtube:  https://www.youtube.com/watch?v=wfFyZzEIqj4&app=desktop
A 1 hour more professional video: https://www.youtube.com/watch?v=8EsM1qUUojA&feature=youtu.be