How the Führer salute changed the way American school children said the Pledge of Allegiance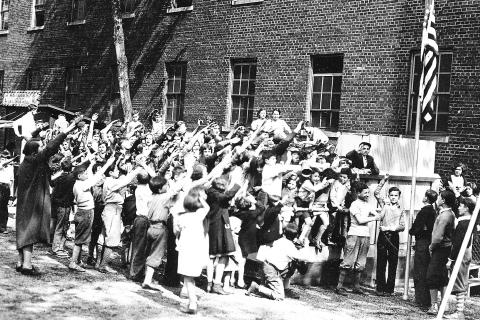 Jewish children at the Irene Kauffman Settlement school in Pittsburgh in 1934 giving a straight arm salute to the American flag. Enlarge

"This was the way Americans saluted the flag at the time. In 1934, this would have been perfectly normal, strange though it looks to us now," said Timothy Snyder, a Yale history professor
The stiff-arm salute emerged in the US in the late 1800s, preceding both the "Nazi" salute and Mussolini's salute, according to Richard Ellis, professor at Willamette Univ., Salem, Oregon.
The commemorative flag raising was "all about nationalism," said Maurine Greenwald, assoc. professor of history at U of Pittsburgh. "It's a part of a period in which nations are heightening their national definitions and rituals and identification and history. The U.S. is no different in that regard."
*    *    *
Francis Bellamy, a Christian socialist minister and author wrote the Pledge of Allegiance. The pledge was accompanied by what became known as the Bellamy salute.
It began with the hand on the forehead, military style. One line into the pledge, at the first flag reference, it became a stiff-arm salute at roughly the same angle as the "Heil Hitler" gesture. Except that the palm of the hand was to tilt upward, facing the sky ... which was a bit difficult to do. Since it was easier to leave the palm facing down, most chidlren, and adults too, did just that.
When photographs of Germans giving the Führer salute began appearing on the front pages of American newspapers, "people were taken aback," said Ellis. "It was supposed to be the American salute, not the Nazis'." It's use began to diminish.
In December 1942, Congress got rid of the Bellamy salute for good, and decided that the entire pledge would be recited with a hand over the heart ... which makes it not a salute any more.

Full story here.