First Jew chosen to become conductor of the Berlin Philharmonic
Here he is - described by one disappointed critic as a mythical figure from Wagner's operas, "the tiny gnome, the Jewish caricature," which brought on cries of "anti-Semitic hatred."
The next chief conductor of the Berlin Philharmonic has been chosen: He is Kirill Petrenko, a Jew born and raised until age 18 in Russia! [Strangely, or not, the announcement was made on June 22 (the date of the German invasion of the Soviet Union in 1941).] Isn't it wonderful, and so international as befits an "international city" like Berlin, yes?

The problem for true Berliners, though, is that Petrenko was selected over a Berlin-born German who many expected to get that job: Christian Thielemann, currently chief conductor for the Sächsische Staatskapelle Dresden and former music director of the Munich (Bavarian) Philharmonic. Thielemann is 56 years old (born April 1, 1959), with a brilliant career in opera, being a regular conductor at Bayreuth and the Salzburg Festivals.
In 2003, Thielemann was awarded the Order of Merit of the Federal Republic of Germany (Bundesverdienstkreuz). In October 2011, he received honorary membership of the Royal Academy of Music in London. This year Thielemann won the Richard Wagner Award (Richard-Wagner-Preis) of Leipzig. He is described as a world-renowned expert on the German sound.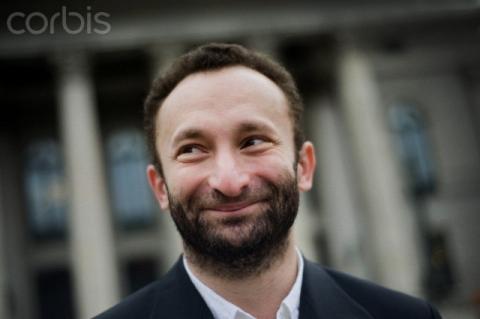 But perhaps there are influential people in Berlin who don't want a "German sound" at their Philharmonic. Or could this be about breaking through one more "taboo" for the Jews. Because Petrenko [pictured right - enlarge] will be the first Jewish conductor in the Berliner Philharmoniker's history, though there are several Jewish conductors of other orchestras in the German capital, including Daniel Barenboim, originally of Argentina, who conducts the Berlin State Opera and Dresden Staatskapelle, and the Hungarian-born Ivan Fischer, who conducts the Berlin Konzerthaus.
The orchestra members, who are given the responsibility for the selection, voted for Petrenko despite Petrenko having conducted the Berlin Philharmonic only three times prior to his being made the new Chief Conductor. Thielemann was considered by some a  controversial choice because of his "conservative" views.
Here's how The Guardian's music critic rated Theilemann in a March 2015 article on the upcoming voting :
1. Christian Thielemann

Age: 55    Current job: Chief Conductor, Staatskapelle Dresden
Thielemans's admitted brilliance in late-romantic repertoire - Bruckner, Strauss, Wagner, but not Mahler, with whom he feels less sympathy - and his lifelong obsession with the German and specifically Prussian culture of which the Berliners are a historic symbol, along with his direct musical relationship with Herbert von Karajan, makes him impossible to ignore. But it's precisely that narrowness of repertoire, along with his perceived political sympathies, that makes him so toxic to some, arguably especially for the international audience who are so essential to the Berliners' continuing reputation.
Read more about Theilemann's interesting character in this enlightening interview from 2001 in The Guardian. And see here for the nasty rumour-mongering against him continuing up until today.
Below: Christian Thielemann, a real German passed over for political reasons, conducting the Staatskapelle Dresden.