Why I support the AfD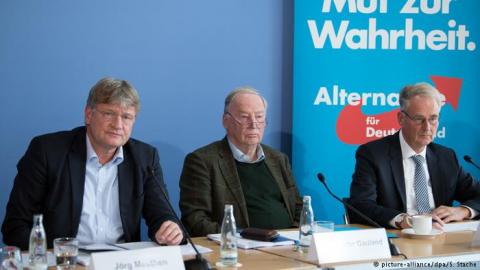 AfD leaders hold a news conference with a generally hostile press.
---
By Carolyn Yeager
GERMANY NEEDS TO CHANGE. That is, the political philosophy that governs Germany needs to change. The current philosophy is internationalist and guided by remembrance of WWII "crimes", especially the Holocaust slander. The change I want to see is to a pro-German Germany, a more nationalist Germany. The new party Alternative for Germany (AfD), described as populist, can bring about this change in an unobjectionable way. Yes, the Jews will scream, the left will scream, the communists will scream – but since AfD has no connection with Nazism, since it rejects any return to National Socialism, the party is not in any way 'unconstitutional' … unless and until being pro-German (or even being German!) becomes unconstitutional.
Because the AfD is not extreme in any of its views, because they welcome Jews and support Israel (but not in the fanatical way the CDU and SPD do) … because of this they are "respectable" enough to have achieved something like a stable 15% of the vote nationwide, and are represented in every state parliament in Germany. This is something the older, far right National Democratic Party (NPD) has never come close to. The current leadership of the AfD is intelligent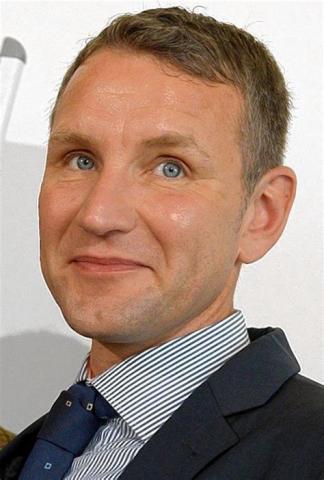 and capable, particularly (in my opinion) Alexander Gauland and Joerg Meuthen. I also think Alice Weidel is very effective. I am encouraged that the party did not expel Bjorn Hoecke (left) of Thuringia, which was demanded by the Jews and Leftists simply for his expression of some of his heartfelt beliefs about what Germany means to him. Those like Bjorn are exactly whom I want to see able to express themselves more freely in German life.

Change has to start somewhere, and it has to have staying power. It's no good if it's here today, gone tomorrow. Some of the desirable changes I think an AfD majority in Berlin would facilitate are the following:
a) Less censorship; greater freedom for public discussion of the Third Reich era;.
b) Relaxation of the enforced guilt that all German-blooded people are expected to embrace for all eternity.
c) Allow discussion of the proper interpretation of Volksverhetzung in the German criminal code – in English meaning "incitement of the masses" or "incitement to hatred."
d) Allow the current financial support and special laws for all Jews, Jewish organizations and structures, educational costs of rabbis, and aid to the state of Israel to be commented on and questioned in a calm, respectful way, same as for Christian and Muslim clergy and places of worship. This is something taxpayers should have a say in.

Currently in Germany, questioning or expressing doubt about the absolute truth of all details of the so-called Holocaust, as determined by the war crimes trials that took place in Nuremberg in the latter 1940's, is against the law. Likewise, anything less than 100% disapproval of National Socialism and the showing of N-S symbols is punished under the same law. There is no possiblity of historical debate; debate is criminalized. This is not democracy, and it is not 'adult' behavior either. This needs to change for Germany to join the rest of Europe as a 'grown up' country, rather than being held in an apologetic stance as a moral inferior.
Changes of this type won't take place in a sudden jolt, but can only happen gradually. I am okay with that, but I do want it to start as soon as possible. I think the best hope for this moderation in law and social practice to actually win out is for Germans to vote the AfD party into power. It's not impossible.