What will be the fate of Kevin Wheatcroft's incredible "Nazi" collection?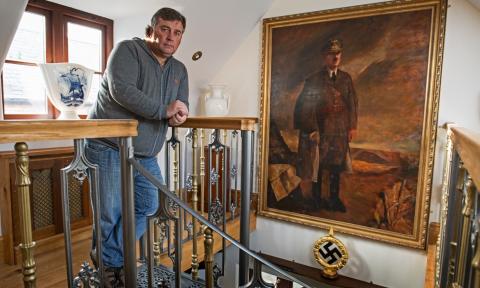 Kevin Wheatcroft stands in his private home in England in 2015, next to what he says was Adolf Hitler's favorite war portrait of himself. Enlarge

What will happen to Kevin Wheatcroft's' amazing collection of World War II German military vehicles and National-Socialist memorabilia now that he is publicizing it to the world?
The hefty Mr. Wheatcroft is 55 years old, and looks to me like a pretty good candidate for a heart attack in the next 10 years. How will he preserve what he has spent his life collecting? -with more heartfelt feelings than financial ones, it appears. The son of a WWII British "war hero" and his German war bride, he told a Guardian newspaper reporter that "Adolf and Hermann" are "my real love." If that is true, we can expect Mr. Wheatcroft to have a care about what happens to his collection.
Will he build and endow a museum (or two) to permanently house it all? But what can stop the Jewish-British government from confiscating the whole she-bang and destroying it? Or turning any museum he creates into a "documentation center" which tells the whole story as a criminal enterprise by "Adolf and Hermann" (and company).
While I heartily applaud and wholly admire Mr. Wheatcroft for discovering and "rescuing" all these thousands of physical objects of the National-Socialist era, including the war, I fear for their continuing existence once the entire collection can be seen as one big jewcy target.
I wish Mr. Wheatcroft well, and will try to keep up with any further news about him. You can read the details and see lots of pictures  here. The collection even has a brand new Wikipedia page.

I just hope Mr. Wheatcroft has a plan. At first I thought how good it was that he had "rescued" from oblivion so much of what had been scattered around the world, but now I wonder if all these relics aren't worse off by making one big target, all conveniently gathered together.