Thomas Dalton has done it again!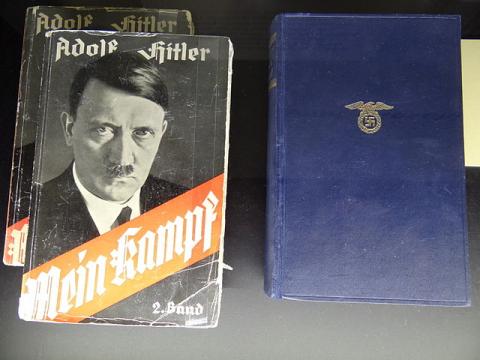 Display of Copies of Hitler's Mein Kampf - Documentation Center in Congress Hall - Nuremberg-Nurnberg - Germany
Not only has he just published an exceptional article about Mein Kampf and Adolf Hitler, but Dalton reveals he is also working on a new English translation of Mein Kampf – a side-by-side German-English translation, no less! This is fantastic news. I think he had better make a big first print run when he publishes it because it will no doubt be highly desirable. He may become the first revisionist author to get rich on his work!

Everything Dalton has done to date has been outstanding, in my opinion. He is one of those writers who seems to want to truly enlighten his readers, so he puts the facts of the story first and gets himself out of the way. For this reason, and others, he is perfectly suited to do a new Mein Kampf translation we can have faith in.
The first revisionist work I know by Dalton is the well-known Debating the Holocaust: A New Look At Both Sides" (2009), which contrasts the "exterminationist" and the revisionist views in an impartial and thorough manner. The book was very successful, as holocaust revisionist books go.
He later wrote the two-part "Goebbels on the Jews", an exhaustive review of the so-called 'Goebbels' diary', and also the two-part "The Jewish Hand in the World Wars," along with many other great articles. Everything Dalton does has that stamp of solid research and superb organization of the material, plus the clarifying distillation that results from coming through his very fine mind.
He seems to understand the common man's limited attention span, and combines that understanding with the scholar's desire to know in depth into a pleasant, if not easy, read that offers a satisfactory overview of the subject - in this case the man Adolf Hitler and his famous book, Mein Kampf. Please read "Rethinking Mein Kampf" here.