Serbia walks delicate line between Russia and the West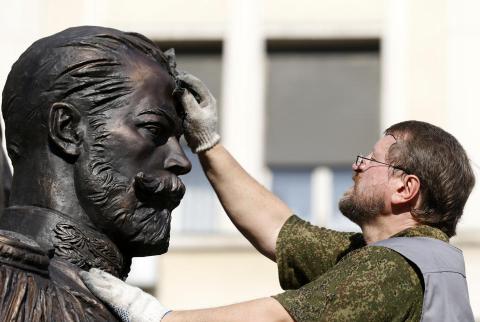 Oct. 13, 2014, a worker prepares a new statue of Russia's last Czar, Nicholas II, in downtown Belgrade, Serbia, in preparation for staging a hero's welcome for Russian President Vladimir Putin during the country's first military parade in 30 years. Ironically, Nicholas II was murdered with his wife and children by the Bolsheviks whose leader, Lenin, is still honored in Moscow.
From Reuters and AP news stories -
Thursday, Oct. 16th is the date for a visit from Russia's Vladimir Putin to Serbia's big celebration of the 70th anniversary of the liberation of Belgrade from National-Socialist Germany occupation. On Oct. 20, 1944,  the Red Army and Yugoslav Communist Partisans together forced the "Nazis" to retreat across the River Sava.
Putin to be guest of honor
Guns, tanks and planes will again be in the city, now capital of Serbia, for a Liberation Day parade held four days early to accommodate the guest of honor -- Russian President Vladimir Putin, en route to a summit in Milan.
A new statue of Russia's last tsar, Serbia's World War I ally Nicholas II, was unveiled on a downtown avenue. Giant billboards showing intertwined Russian and Serbian tricolor flags have appeared beside the airport highway.
Ultra-nationalists have plastered lampposts with bills showing Putin's portrait alongside those of Bosnian Serb war-crimes suspects Ratko Mladic and Radovan Karadzic, along with historical Serb heroes, under the title "Pride Parade" — an ironic reference to Belgrade's gay pride parade held peacefully last month after years of resistance by hardline nationalists.
"Serbs and Russians are brothers," says Radivoje Miljanic, who runs Cafe Putin — an establishment devoted to the Russian president in the northern Serbian city of Novi Sad.
The red carpet reception for Putin comes as Serbia finds itself caught in the middle of Moscow's row with the West over Ukraine. While Serbia continues down its officially declared path toward EU membership, it is unwilling to give up its close ties to its Slavic ally Russia. Because of these historic bonds, local politicians must respect Putin's widespread polularity in Serbia in order to please voters.
U.S. Ambassador to Serbia Michael Kirby said he doesn't want to tell Belgrade whom it could invite, but suggested that he sees Putin's visit as untimely. "You can have good relations with Russia and China, and with the United States. But our view of visits by Chinese and Russian officials differs. Chinese have not attacked anyone, but the Russians have," Kirby recently told Belgrade's Vecernje Novosti newspaper.
"It is going to be an extremely short visit, but one that will harm Serbia's EU integration," said political analyst Jelena Milic of the Belgrade-based Center for Euro-Atlantic Studies. "That is Putin's primary goal. He is coming in a period when the EU has common sanctions, trade sanctions related to energy and defense, and this is exactly where Serbia tends to sign bilateral agreements with Russia."
Serbia's foreign minister, Ivica Dacic, responded: "What is Serbia supposed to do? To say that, because we want to join the EU, sorry Russia, we're not friends with you anymore? Where's our national interest in that?" he told state television last week. "Russia and China are our only defense against Kosovo joining the United Nations."
Russia sees Serbia — although it was never in the Soviet bloc — as one of its last true allies in the Balkans. Moscow has issued quiet threats that it could drop its endorsement in the United Nations for Serbia's opposition to the independence of Kosovo, a one-time province that declared statehood in 2008, if it moves closer to the West.
Putin said during his last visit to Belgrade in March 2011, he has "nothing against" Serbia joining the EU. But he strongly warned that it should never join NATO. If it did, he said, Russia would have to point its nuclear arsenal toward the Balkan country that is a member of the Western military alliance's outreach "Partnership for Peace" program.
Kremlin officials have also told Serbia that when and if it joins the EU — which is not expected before 2020 — its lucrative free trade agreement with Russia would no longer be valid. [The earliest Serbia could be a member of the EU is 2020, but in 2009 the Schengen countries dropped the visa requrement for Serbian citizens! How does this help the citizens of those countries? -cy]

Kosovo remains an issue
Majority Albanian Kosovo, which split from Serbia after a 1998-99 conflict stopped by NATO air strikes, remains an issue. Serbia has signed up to compromises, but the EU will press for more and Serbia has refused to recognize Kosovo as independent. Serbia, like much of eastern Europe, is also dependent on Russian gas.
That has left Belgrade trying to straddle both East and West, a ploy played brilliantly by Tito during the Cold War but not so simple since the Berlin Wall came down.
Serbia has pledged its respect for the territorial integrity of Ukraine, whose own moves towards the EU prompted Moscow's annexation of Crimea and a pro-Russian revolt in the east.
But Belgrade has refused to join the West's sanctions on Russia, something the EU's new commissioner tasked with accession negotiations, Johannes Hahn, said Belgrade would "have to address".
And while negotiating an Individual Partnership Action Plan with NATO - the highest rung of cooperation between the military alliance and a country not aspiring to join - Serbia will host Russian soldiers for joint military exercises near the border with NATO member Croatia later this year.
"That's not at all smart," said Jelena Milic.

She described Serbian policy as "bobbing and weaving."