Russians outraged at Red Army rape sculpture

This lifesize concrete sculpture depicting a Red Army soldier raping a pregnant woman appeared next to a Soviet tank at the site in Gdansk, Poland that is meant to memorialize the "liberation" of the city from National-Socialist forces in 1945.
It is the work of Jerzy Bohdan Szumczyk, who is now facing up to two years in prison for the possible charge of inciting racial or national hatred. He placed it there during the night without permission and police removed it only a few hours later. But, according to authorities, the damage was done.
The sculpted soldier, identifiable as Russian by his helmet, is kneeling between the legs of a heavily pregnant woman lying on the ground. He holds her by the hair with his left hand while with his right he puts a pistol into her mouth. Szumczyk titled the piece "Komm, Frau" (Come, woman) which was the common phrase used by Soviet soldiers signaling to a German woman they were going to force sex on her and she should cooperate.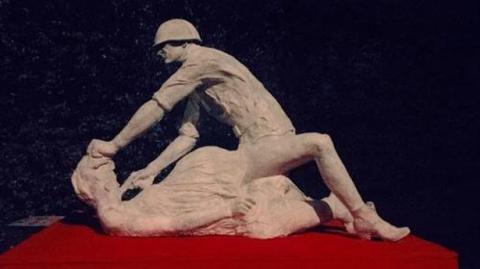 As was to be expected, Russia's ambassador in Warsaw, Alexander Alexeyev, proclaimed "deep outrage" that Szumczyk had "defiled by his pseudo-art the memory of 600,000 Soviet servicemen who gave their lives in the fight for the freedom and the independence of Poland." He called for an "appropriate reaction" from Polish authorities.
Rape of women in the hundreds of thousands, particularly German women (from girls as young as 7 to elderly women in their 70's), by Red Army soldiers was and is well-known, and occurred during the last months of the war and after the war. But discussion of these crimes has remained taboo in Russia.