Resistance lives - in Dresden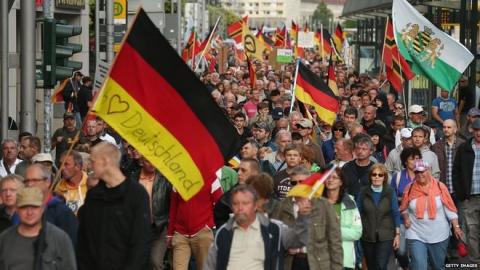 On Monday, over 2000 heroic German souls marched in a PEGIDA-sponsored demonstration against their government's acceptance of asylum-seekers and migrants who are now invading the eastern part of Germany from the Balkans.
The BBC reported that

"In a Dresden suburb, the car of Michael Richter, a councillor who had been helping refugees, was blown up." Kudos to those who are letting the authorities know that they are serious. 
Last week, a new tent city sprung up suddenly in Dresden's Friedrichstadt district as a temporary refugee center. Fights between refugee-opponents and refugee-supporters have broken out there.

A month ago, on June 28, a brand-new, still uninhabited refugee center in the historic town of Meissen (of porcelain fame), close to Dresden, was set on fire and burned during the night. Investigators say it was started deliberately. "We currently suspect arson," a Police spokeswoman said.

This is understandable when tens of thousands of "economic migrants"  -- mainly "youths" who do not speak your language or share your culture, even your religion -- invade your city and are given free housing, food, financial support for perhaps 6 months without even having to work. Perhaps they are sent to school, tuition paid by the taxpayer ... you. This takes place at the same time that you are struggling to raise and educate your own children.
Because of this citizen anger, pressure has grown for the German authorities to do something about what they now acknowledge has become an out-of-control problem.  They also know this problem comes solely from the European Union's Schengen rules, which allow unrestricted travel in Europe.
The Shengen Agreement has always been controversial. It was first signed in 1985 by only five of the 10 EU member states:  Belgium, France, Luxembourg, the Netherlands, and West Germany. No problem with those five. But it expanded from there, and now even non-EU countries have been included. The explanation given for this is questionable to say the least: "helping to integrate" these struggling small countries of the former communist Yugoslavia "with the rest of Europe." Even BEFORE they have done what is required to be admitted into the European Union! Does that make sense? Only as part of the Globalist plan to make Europe non-White and non-Christian. A melting pot like the USA ... where Jews feel safe.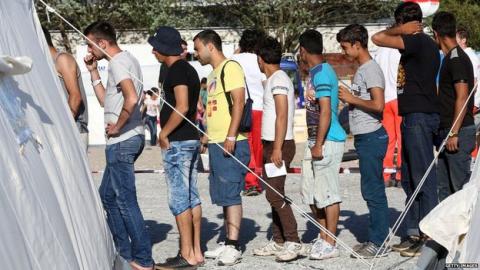 A tent camp for refugees was set up in Dresden last week. Do these look like downtrodden refugees, or more like mixed-race boys seeking to break into a richer country than their own? Once they are established, they should be able to bring in other members of their family.

German officials are now talking about reintroducing visas and declaring more of the migrants' home countries to be "safe". 
Germany's asylum appicants from Bosnia-Herzegovina, Macedonia and Serbia surged after visa requirements for those countries were lifted. But when they were declared "safe" last December, the rise in asylum seekers was only about 12%, according to the federal office for Migration and Refugees (BAMF). A "safe" classification makes it easier for the authorities to send back asylum seekers because it is then harder for the applicants to prove that they are victims of persecution on political, religious or ethnic grounds.
However, the numbers from Albania, Kosovo and Montenegro* have soared by more than 500%! To reinstate the visa requirement would require a decision at the EU level, by majority voting. It's not something Germany can do on it's own, which is why it was a mistake to agree to it to begin with.
*Neither Albania, Kosovo or Montenegro ... nor Bosnia-Herzegovina, Macedonia or Serbia ... are members of the European Union! But their people are flooding into Western Europe visa-free neverthless.