Night #1 and Night #2—What Changes were Made and Why, Part One
By Carolyn Yeager
On Tuesday, January 17, 2006, Amazon.com announced that it was changing the categorization of a new translation of Elie Wiesel's Night from novel to memoir.
Amazon would also revise the editorial description of the original edition to make clear that they consider the book a memoir, not a novel. "We hope to make these changes as quickly as possible," said Jani Strand, a spokeswoman for the online retailer. The day before, Oprah Winfrey had announced that Night was her latest book club choice, displacing her previous selection, James Frey's A Million Little Pieces.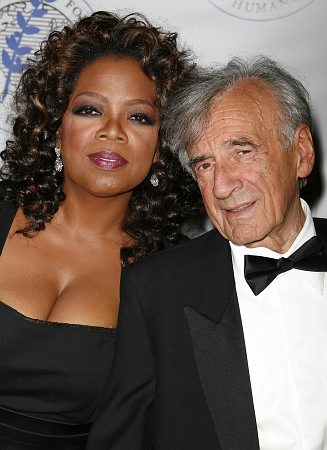 Left: Oprah Winfrey and Elie Wiesel pose together at the  Elie   Wiesel Foundation for Humanity Award Dinner at the Waldorf Astoria Hotel on May  20, 2007.  Winfrey was honored  with  the  Humanitarian   Award for "positively impacting people all over the world, especially children."  One year earlier, she had selected Wiesel's "Night" for her popular book club "pick" which sent it immediately to the top of the national bestseller lists.
The sudden switch from fiction to non-fiction caused some discussion and questions, which Strand brushed away by saying,  "Amazon.com's data source for the Oprah Book Club edition of Night inaccurately classified the book as fiction." She declined to offer details. The book, re-classified as "Autobiography" and blessed by Oprah, was already No.3 on Amazon.com as of that Tuesday afternoon! Wiesel, interviewed later with his literary agent Georges Borchardt, insisted they had never portrayed it as a novel.
But the publisher did.1 There has been confusion about the question for so long—even Wiesel's defenders have to admit it. Ruth Franklin, in her 2011 book, A Thousand Darknesses, wrote: "Unfortunately, Night is an imperfect ambassador for the infallibility of the memoir, owing to the fact that it has been treated very often as a novel—by journalists, by scholars, and even by its publishers."2  On Night's Wikipedia page it has long been described as autobiography, memoir, novel—yes, all three. How long will that continue? As long as there are editions of Night that still sport those labels, one assumes.
As for Wiesel and Borchardt, they answered questions about differences in the text of the new edition by saying they were not significant enough to justify raising questions. The next day, Wiesel's wife Marion, the translator of the new edition of Night, said in an interview that among the changes was a reference to the age of the book's narrator when he arrives in 1944 at Birkenau, the entry point for Auschwitz.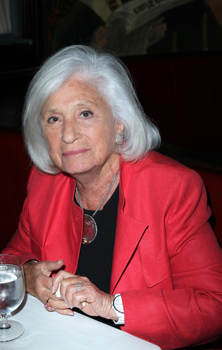 "At no point did this change the meaning and the fact of anything in the book," Marion Wiesel said. She explained it this way:  The narrator tells a fellow prisoner that he is "not quite 15." But the scene takes place in Spring 1944. Mr. Wiesel, born on Sept. 30, 1928, would have already been 15, going on 16. So in the new edition, she changed it to "15." Whaaaa? She changed the age as it was written in the Yiddish to fit Elie Wiesel, who was fifteen and a half at that time and would not have written "not quite 15." What is written in the Yiddish original, Un di velt hot geshvign, we also find in the original Night. I will add that if your birthday is still four months away, you don't say you are "not quite" your next age, especially when you are young. Marion tried to joke it away, telling reporters "I kidded Elie and told him, 'I don't think you can add.'"
But that particular change, rather than insignificant, was one of the major reasons that a new translation was undertaken. There are other quite significant changes in the new edition that will be enumerated in this article. When you learn what they are, you can decide for yourself if you think they are insignificant.
Above Right: Marion Wiesel is the translator of the 2006 edition of  Night. Here, in 2010, she attends an after party at The Monkey Bar for Oliver Stone's new "South of the Border" New York premiere at Cinema 21.
There's much more! Please continue reading this article by going to Elie Wiesel Cons the World and pass it around.