The essential new book on Hitler is available now
The book that every student of Hitler needs to own …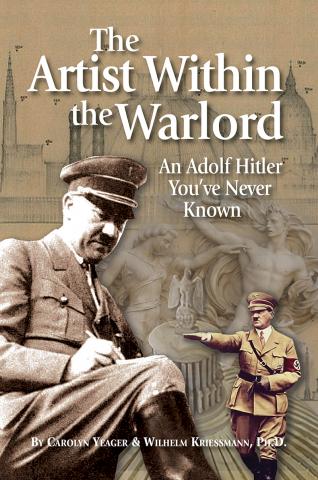 The Artist Within the Warlord—An Adolf Hitler You've Never Known
The collected translations and commentary by Wilhelm Kriessmann, Ph.D. and Carolyn Yeager from Hermann Giesler's German-language memoir Ein Anderer Hitler.
A wealth of insight into the REAL HITLER awaits you in this new book that puts it all together in thirteen revealing chapters that lay out the world view and the unique personality of the most controversial leader of the twentieth century. Hitler the artist ... Hitler the humanist … Hitler the persistent planner ... are three of the aspects of Adolf Hitler you will learn about, or learn more about, in this book. [See special announcement below with the ordering information.]
You may have already read the selections when they appeared in The Barnes Review from Dec. 2008 through June 2011. Or you may have read them when they appeared on this website. But, as I myself experienced when seeing the chapters together in  book form for the first time, you will be struck by the greater clarity in which you perceive not only the man but the surrounding details of history from 1939 to 1945 that Hitler was intimately involved with. It is solid history that we can rely on because we can rely on Hermann Giesler. As an honest admirer and friend of Adolf Hitler, he faithfully reported what he saw and heard during his time spent at Obersalzberg and at the secret headquarters of Wolfschaanze in East Prussia and Werwolf in Ukraine. He probably jotted down notes after his many meetings with the Fuehrer.
Though this new book refers to Hitler the artist, that designation is not determined by the paintings and drawings created by young Adolf in Vienna and Munich, but by his sensitivity to, and the importance he placed on Art in the life of a nation. His own artistic ability (he always said if he had not become a politician – and that was because he believed Germany needed him – he would have become a famous architect) certainly influenced the importance he placed on city building projects, some of which he had been thinking about since his youth. It's also why he needed to remain involved in such projects.
Seeing the world around him through the eyes of an artist also explains why the National Socialist party buildings and events were so visually well designed with flags, banners, decorative reliefs and attractive uniforms, with impressive outdoor rallies featuring thousands of participants and dramatic nighttime lighting displays. No one else has ever achieved the integration of art with politics in the masterful way Hitler did.
Yet, this book remains mainly about Hitler the political and wartime leader and planner because that is what Giesler thought important to relate for history. Even so, as a prize-winning architect Hermann Giesler naturally picked up on the artist in Hitler and it comes through on page after page of his memoir. Hitler the humanist also comes through clearly, and often in combination with a modesty of demeanor unexpected in the Fuehrer. What we don't find is either 'Hitler the overwrought screamer' or 'Hitler the cold-blooded executioner' because that Hitler didn't exist, and there was no hint between the two men of the mythical "war crimes," nor any mention of such by the inner circle at headquarters.
To order your copy, go to this page. Or call 1-877-773-9077 toll free between approximately 10 am and 5 pm Mon.-Fri. 6"x9", 244 pages, $25 plus $5 S&H inside U.S.

Special announcement: A certain portion of the first order of books were inadvertently trimmed too small in the bindery process. If the book you paid for is less than a full 6" by 9" (an eighth to a quarter inch less in height and width), please let me know by email [[email protected]] or in the contact section, and TBR will send you a replacement copy. Just give me the name you ordered the book under. Sorry for the oversight, but I want everyone to have a perfect book and so does the publisher.