Merkel: No limit; Bavarian governor: We revolt in "self-defense"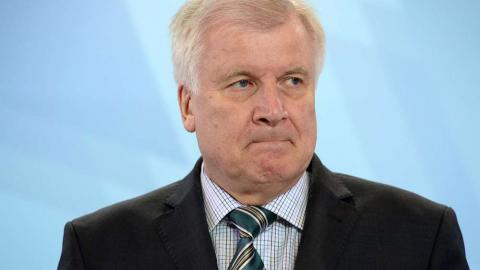 by Carolyn Yeager
While Angela Merkel made it clear in a TV talk show interview Wednesday night that her government will not "freeze" the refugee inflow at a particular number, saying it is "not possible" to do so, the governor of Bavaria and leader of her sister party, the CSU (Christian Social Union), Horst Seehofer (pictured above), is meeting with his cabinet tomorrow to organize something of a revolt.
Seehofer and his party, and even some key members of Merkel's party, the CDU (Christian Democratic Union), take a more realistic approach to the refugee invasion and are questioning Merkel's leadership on this issue.
In today's Spiegel Online, it's reported that Seehofer wants to return refugees that are being sent to his state by Austria. If necessary, he will violate the law, claiming it to be an act of self-defense. He argues that other EU countries, such as Austria, are waving refugees on to Germany when they themselves are responsible for carrying out the asylum procedures.
According to Spiegel, tomorrow's cabinet meeting will consider the following measures developed by the Bavarian Interior Ministry:
Transit zones to be established at land borders, along the lines of airports. This is currently incompatible with European law but Bavaria would do it anyway, using its own police force. In principle, border control is the responsibility of Federal Police
More railroad hubs in Germany, so trains can bypass Bavaria altogether. In recent weeks, the Munich Central Station was the destination for too many of the refugees.
Refugees coming from Austria will be bussed back to Austria. The onward journey of refugees from Austria to Germany violates the Dublin Procedure. If Austria continues to "ignore European law," Germany has to immediately examine and reject refugees at the border.

Bavaria feels it has been left alone to deal with the refugee problem - not only by the EU but by the other German provinces. Therefore, it must take tough actions that, in its eyes, are no more than an act of self-defense. 
Good luck, Seehofer and the CSU.