Letter from a fighting father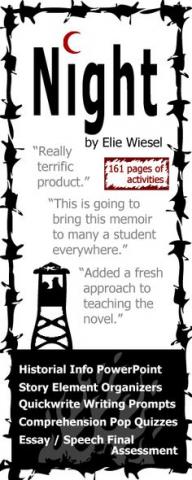 Dear Carolyn,
Since learning of you a few years ago I have learned a great deal.
Your work has been very instrumental in helping me to work on getting "Night" removed from the Freshman reading list in A.P. [advanced placement] English and Literature courses taught at the private high school where 3 of my 5 children are enrolled.
It has been a tough battle because in the midst of all that I was doing there was an administrative shake up due in part to one of the girls on the volleyball team being bullied.
Anyway, I have not let up in my pursuit of this mission. The original excuse given to me was that the teacher wanted a story about someone interned in a prison camp.* With so many great books why pick NIGHT? She could never give me a satisfactory answer.  Continue reading at Elie Wiesel Cons The World