Latest! Elie Wiesel's Story Unravels Further
By Carolyn Yeager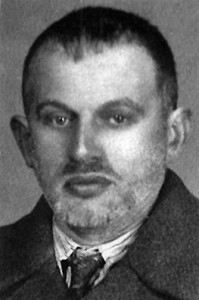 Elie Wiesel's father Shlomo in 1942, according to Hilda Wiesel. Is he 39 or 48 years old?
A report in the Yad Vashem Shoah Victims database by Yaakov Fishkovitz contradicts Elie Wiesel's story about his father's death.
Yaakov (Jacob) Fishkowitz filled out a death form in 1957 for his cousin Shlomo Wiesel, shortly after Yad Vashem first began its "Central Database of Shoah Victims Names."1 He also filled out a form for Shlomo's mother Nisel Basch Wiesel, his aunt. The cousins shared a maternal grandfather, Moshe Basch.
Yaakov was the son of Mentza Basch, daughter of Moshe, and Fishel Fishkovitz. Yaakov recorded Shlomo's date of birth as 1903, which is much later than has been assumed, making Elie Wiesel's father only 40 years old when he died! However, since Wiesel himself was 14 or 15 years old in 1943 this makes a lot more sense for an Orthodox Hasidic father-son. I will examine this further on in this article.
As seen in the two Yad Vashem Shoah Victim reports below—one by Fishkovitz and the other by Elie Wiesel—Yaakov spells the last name as both Wiesel (German) and Vizel (Roumanian). The German 'W' is pronounced as the English 'V;' similarly with s and z. He also gives both the formal name Salomon and its casual form Shlomo. Elie, on the other hand, spells his father's name as Vizel and his own name as Eli Vizel, dropping the 'e' in his first name that he adopted for his post-war identity.
Shlomo's children have never or seldom used the formal 'Salomon' for their father, but they do agree that Eleizer (or Leizer) and Nisel were his parents and that he was born in Sighet; that he was married and operated a store. Yaakov uses the word "merchant" while Elie uses "shop owner."  Elie adds his mother's name, Sara Feig, but leaves his father's date of birth blank, while also giving an incorrect date for his death according to his own book, Night.
... continue reading at http://www.eliewieseltattoo.com/relative-of-shlomo-wiesel-says-he-died-in-1943-not-at-buchenwald