James Damon, translator of German texts into English, has died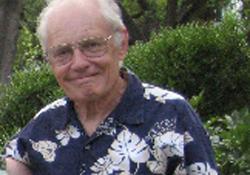 Once again it was Ray Goodwin who has just informed me that our mutual friend James passed away on April 15, 2015. James Damon had been diagnosed with cancer a few years ago and began a long, slow decline but he had continued to work and keep up with his friends.
It was at the Austin, Texas home of James and his wife Johanna (whom he called Hannalore) in summer 2010 that I first met and visited with Fredrick Toben, along with Ray Goodwin and others. The picture of James here and the one of me that graces the top of this webpage were taken at that time.
James was a solid Germanophile who taught German and was otherwise active with the German-Texan Heritage Society located in the historic German Free School building in his home town of Austin, TX. Some of his translations that appear on this website are The Final Interview with Erich Priebke, Sylvia Stolz, The German Joan of Arc, Hostility Towards Germans and many of the writings of Günter Decker
I interviewed James on The Heretics' Hour on August 22, 2011. He was a quiet and modest man who made a huge contribution to German, WWII and 'Holocaust' revisionism. We are all in his debt.