Hundreds attend memorial mass for WWII Croatian leader in Zagreb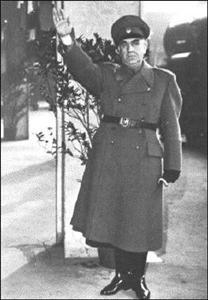 Hundreds of Croatians attended a memorial mass in the Basilica of the Heart of Christ in Zagreb on Sunday, Dec. 28, for World War II-era leader Ante Pavelić [shown at right] on the 49th anniversary of his death, it was reported by local media.
Pavelić was the founder of the nationalist Ustaše movement which advocated for an independent Croatia and called for armed rebellion against the Kingdom of Yugoslavia. Croatia was put into this brand new "state" of Yugoslavia when it was created at the Paris Peace Talks after the First World War.
Yugoslavia's capital Belgrade allied the state with Stalin and the Bolshevist Soviet Union. After the Germans conquered Yugoslavia in 1941, Pavelić became the new head of state of Croatia and allied his regime with National Socialist Germany and Facist Italy.
Following the war, Pavelić made his way to Argentina where he was wounded in an assassination attempt in 1957. He died in Spain two years later.
Jewish groups are loudly complaining to the Catholic Church for allowing a memorial mass for someone they call a "murderer." The Church responded by saying that memorial masses are available to all Catholics and are never denied.
According to a recent "global survey" conducted by the Anti-Defamation League (ADL), over half the respondents in Croatia said they believed that Jews were more loyal to Israel than to their countries of residence, and that they held too much power in business and spoke too much about the "Holocaust."