Fed up with "Holocaust"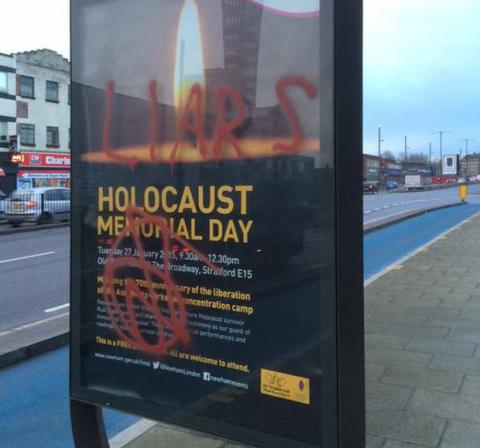 Sign defaced in the borough of Newham, England yesterday. Police are appealing for witnesses as this is considered as "shocking" as the theft of 6 shoes from the Majdanak memorial museum two months ago.
Some folks in London non-violently express their disgust over too much promotion of the holocaust religion, which is understandable, but the authorities are viewing it as a big crime rather than just a little graffiti. They're calling it "racially aggravated criminal damage."
Even though the graffiti has already been removed from the adverts in High Street, Stratford, and West Ham Lane, near Stratford Park with no permanent damage done, police are checking the borough's CCTV footage to try and identify the culprits.If they do they will be charged with a hate crime! [But I thought it was considered "free speech" to criticise or defame someone else's religion. "I am Charlie" and all that.]

The mayor of Newham Sir Robin Wales condemned the behavior, as any good globalist would, proclaiming, "This despicable and cowardly hate crime is an assault on the values of decency and mutual respect which the vast majority of us share."
The vast majority? Don't be so sure of that Mr. Mayor.

Below: the other advert in West Ham Lane, near Stratford Park.