The German Christmas tree and ... whoops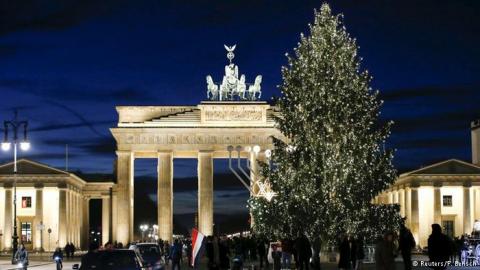 What is that ugly metal contraption peeking out from behind the German National Christmas Tree standing in front of the Brandenburg Gate in Berlin? Oh, it's a Jewish Menorah with a lighted Star of David.

Of all the eight images of "Christmas Trees around the World" posted at Deutsche Welle, Germany's is the only one with a menorah standing beside it.
That is so because Germany, in spite of inventing the lighted tree to celebrate its most beloved winter festival, is a hostage nation - hostage to the people of the Menorah. So the beautiful tree must share its place of honor with the grotesque giant candlestick representing the state of Israel. As recently written by a Spiegel essayist in English: "Israel's security is cemented as a fundamental principal of the German state." And this picture illustrates that so well.
Look for more on this subject from me in the new year. Merry Christmas!