Greece's euro failure due to politics placed above economic reality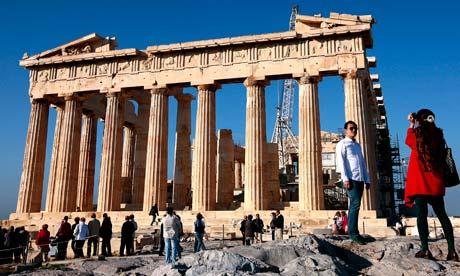 The "Birthplace of Democracy" theme has become a political trap.
By Carolyn Yeager
Everything is political … as I have recognized and repeatedly said for a while now.
The Greek euro crisis and collapse was inevitable since it was an impossible union to begin with. Greece was allowed into the Euro Group in 2001 for political reasons, when the economic data was screaming against it.
The director of an American-based 'think tank' has expressed this in her own words on a recent radio program. Heather Conley, director of the Europe program at the Center for Strategic and International Studies, said the Euro currency project "was a structually flawed project" from the start because it was designed POLITICALLY with the purpose of uniting Europe.
"They were warned about it. This was an economic project designed politically to make Europe more united. But instead it's pulling Europe apart."

"Greece should never have been let in; it did not have the economic indicators and strength to participate in this currency union. But as a political project people said, 'How can we not include the birthplace of democracy?"
The political purpose is also revealed in the fact that France was the biggest proponent of the common currency union because of the old fear of Germany dominating Europe after its reunification in 1990. As Germany continued to get stronger economically, this was a way to equalize the influence of France and Germany … to dilute Germany as in independent power and to force it into a "cooperative" attitude in helping its neighbors.

Says Conley:
"the euro was created right after German reunification to ensure that Germany could not economically dominate Europe."
And today, so much for France being an equal partner with Germany in leading Europe:
France and Italy are right behind Greece in terms of the need for economic reform.
France can't keep its own budget deficit under control and we now have the spectacle of French Finance Minister Michel Sapin complaining about German FM Wolfgang Schaeuble's suggestion that it might be okay if Greece were to leave the eurozone. [That would be putting something right that went wrong in 2001.] The increased likelihood that questions might begin to be asked by other small nations in the voluntary currency union puts the fear of God in the socialist French. Under Socialist FM Sapin, France can't keep its budget deficit under control, overshooting the 3% of GDP target in 2014 by over 1% – with no expectation of improvement until 2017 … if then. German chancellor Angela Merkel has made it clear that respect for the EU's 3% deficit target must be maintained.
Conley also remarked on the damage done to [Greece's] economy by the ruling left-wing Syriza party, saying "The status quo cannot be sustained."
The European Union project needs to be re-thought from the ground up. It needs to return to an economic union without the political dictatorship from the leftists in Brussels. It's clearly being misguided by POLITICAL sacred cows, based on untrue WWII narratives that serve the former Allied nations in justifying their destruction and then outright theft of Germany.
Letting Greece go would be a beginning to the rethinking.