Colorful National Unity Day in Ukraine brings joy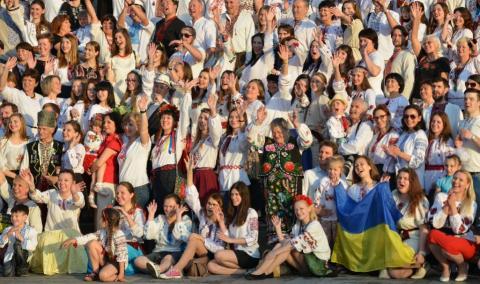 People wearing Vyshyvanka, traditional Ukrainian embroidered blouses, gather on Kiev's central square on May 21, 2015 (AFP Photo/Genya Savilov) Enlarge
It made me happy to see this story in the news reports this morning. I am always attracted to the kind of designs on clothing that are associated with Ukraine folk art. I think President Poroshenko looks handsome in his brightly colored embroidered shirt worn with a modern business suit. (below right) We should see more nationalist dress being worn by Europeans. 
In Ukraine it is not a problem, but in Germany it would be a big problem. Dressing in your national costume conveys that you are a nationalist, or you may have nationalistic feelings, and that is verboten for Germans. In Austria it can now be done  because, as a separate nation, Austria can celebrate itself. Germans cannot, mainly because it would offend Jews. I don't think the large number of Turks there would even care if Germans wore their national costume, but the Jews care.
I'm glad for the Ukrainians that they are so happy to be actually free of the big Russian bear next door, and experiencing themselves as the unique people they are. Andrew Anglin wrote not long ago that the only civilization that Ukrainians had was Russian. I don't think that makes sense, but then I don't think Petro Poroshenko is a Jew, either. There is no evidence, only rumour that his mother was part Jewish. That's possible, but the same is said of Vladimir Putin's mother. Poroshenko has always been a member of the Orthodox Christian Church, as is Putin.
Mariupol (Ukraine) (AFP) - Ukrainians led by President Petro Poroshenko on Thursday donned the country's traditional embroidered dress -- a yearly celebration that has become a manifestation of national identity and unity.
On a visit to an EU-Eastern Partnership in Riga, Poroshenko was photographed wearing a colourful folk-style shirt for "Vyshyvanka Day", named after the national clothing, while Finance Minister Natalie Jaresko wore an embroidered dress.
Many members of parliament sported similar traditional garments during Thursday's session, as did thousands of other Ukrainians, according to AFP journalists.
"It fills me with joy to see Ukrainians, large and small, joyfully wearing this national garment. For us, it is our pride and a symbol of our homeland," Jaresko said on her Facebook page.
In Mariupol, the last major city in war-torn eastern Ukraine that is still under control of Kiev, more than 200 people gathered wearing the traditional clothing.
"Being a Ukrainian patriot is much harder in Mariupol than Kiev or Kharkiv," said Natalia Tioukhay, a 57-year-old librarian, referring to the proximity of her town to rebel territory.
The day of the "vyshyvanka" created a buzz on social networks, which were full of photographs of Ukrainians wearing the garments at home and abroad.
The Ukrainian embassy to the Vatican even announced on Twitter having offered such attire to the pope.
Members of the Canadian embassy in Kiev as well as the UN Refugee Agency also posted group photos in embroidered shirts on their Facebook pages.
The day is not an official holiday in Ukraine, but it is increasingly celebrated amid rising patriotism since mass protests last year ousted a pro-Russian president and triggered a pro-Moscow insurgency in the east.