Another 'secret' Himmler speech now being translated into English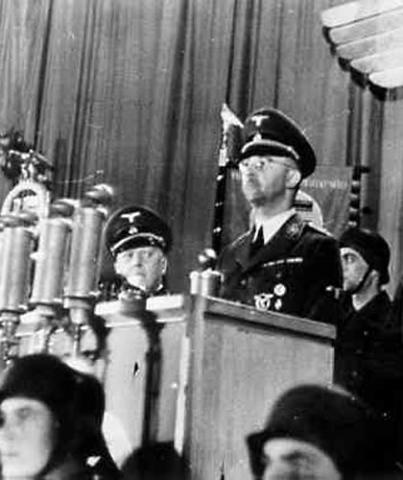 Thanks to the great friend of WWII and Holocaust Revisionism, SHOAHBLOGER, we are gaining more insight into the high-level war-time treason Adolf Hitler had to deal with and into Heinrich Himmler himself.
The speech is described as "The first ever English language translation of a secret speech for Gauleiters held two weeks after the assassination attempt on Hitler by Stauffenberg. 
Himmler talks about the treacherous and defeatist attitudes and  activities in the leadership of the Wehrmacht before and during the War, as well as about the conspiracy to kill Hitler and take power in Germany.
A copy of this speech was deposited by Martin Bormann in the Central Archive of the NSDAP and today it is at the Institut für Zeitgeschichte in Munich. It was published in Vierteljahrshefte für Zeitgeschicthe in 1953."
Parts 1, 2 and 3 have been posted so far on Shoahbloger's site. Don't miss it, as it is fascinating and eye-opening. When all the parts have been posted, I will copy it here at carolynyeager.net as part of my "important speeches" section I'm going to create, and also write a commentary about it.

Many thanks to Shoahbloger for doing the important work he does ... for free! Real truth-seekers are not in it for money or to advance their careers, but to share truth as widely as possible.