Andrew Anglin has regressed back to Africa ... and teen sex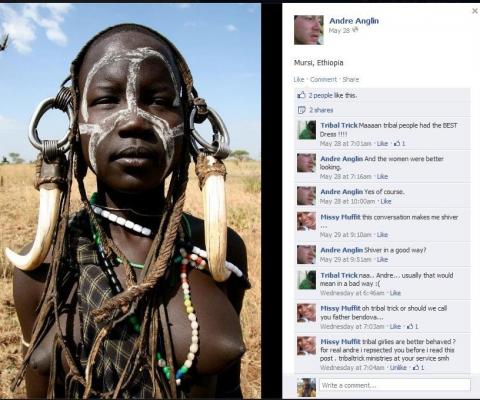 Remember her? Before his 'nazi' days, Andrew thought she was 'hot' and pretty good looking, too. She looks to be about 12 or 13 years old in spite of her large breasts.
---
By Carolyn Yeager
That's where he started, right? Back in his early blogging days? He liked black girls. He settled down for awhile in the Philipines, where he described the girls as "black."
Now he says he's living in Lagos, Nigeria to avoid being served a supoena. He brags that he is called the "world's number one racist hater" (he is always number one), yet he is comfortable there and feels safe. Racists "do not blindly hate skin color," he says. He pats his own back for having the courage to live where he claims "pansy antifa would pee their pants."
Anglin: "[Nigerians] are especially disgusted by black men who lust after white women, believing this practice to be unnatural and sick. They believe it can bring a curse on a man's entire family for generations. However, they do believe that white women seduce their men, and I am not certain I can disagree with this." [Is he speaking to women only?]
But they approve of white men who lust after black girls, like he does? Will some father come and shoot him one of these days? I doubt Andrew thinks that because he believes "The lower races naturally want to look up to us, to serve us, to learn from us."
All I can say is I'm glad Andrew is in Africa. It's a good place for him to indulge his natural inclinations. Andrew is a race-mixer; he's always been a race-mixer, even while producing the Daily Stormer and calling himself a Nazi. He did try to overcome this affliction and make it with White women but it just didn't work out. So he's back in the jungle.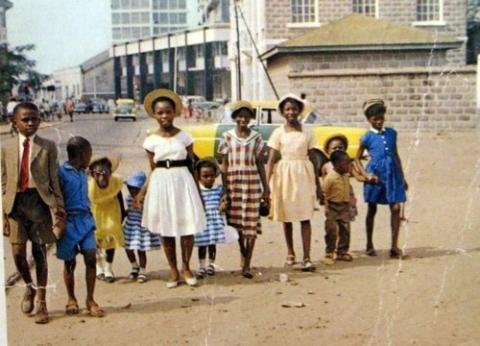 A picture of some well-behaved youths Andrew posted with the article linked to above. He likes these sweet kids and gives them cigarettes, he says.
---
He said in a July 15 post that he's changing Daily Stormer to a Men's Health and Lifestyle website – didn't I tell you that he was due for another change in direction? Among the 9 topics he said he would now focus on, along with Science Fiction films and books, were #4 – Getting laid and #5 – Getting laid in Nigeria without getting HIV. I do believe that's what he went to the Philipines for … back when. He also wants companies (potential advertisers) to send him their products to review, among which he lists Condoms. Then he assures: This isn't a joke. I didn't think it was.
I'm pleased about all this because it might mean he will stop identifying himself as a Nazi, which causes his progressive critics to designate him as a "neo-Nazi," when he is neither one nor the other. What is a Nazi, anyway? No one knows. It's whatever image of "Nazis" one has in one's mind. There is in reality no such creature.
Back in the days of the dignified person that word is associated with, there was a political party and movement that labeled itself National-Socialist. It was the National Socialist German Workers Party, the NSDAP (Nationalsozialistische Deutsche Arbeiterpartei), founded under that name by Adolf Hitler.
The nickname Nazi was a shortened form of Nationalsozialistische or National Sozialist. However, the nickname was mostly used by the opponents of the National-Socialists, the Sozis (Sozialists), not by themselves.
Is Andrew Anglin a National-Socialist? No. He doesn't even pretend to be or to know what it was all about; he just likes calling himself a Nazi. I came upon this post at k0nsl's blog yesterday and liked it. I agree especially with the part that says National Socialism was for Germans and Germany, and can't be adopted or adapted as a universal White people's party. Here is that part:
Here is a brief rundown on "Neo-Nazism"
Firstly, National Socialism (1923-1945) is German and for Germans only. It's true that neighbouring countries at the time, such as Denmark, Sweden and the Netherlands, had Nazi parties, but generally, it was for Germans at that particular historical time. The objectives were to break the Versailles Treaty, find living space for overpopulated Germany, deal with the military threat posed by France and the USSR, solve the German unemployment problem (not to mention the communist problem)…
Is there such a thing as Neo-Nazism? Otto Remer's Socialist Reich Party (1949-1952) in West Germany attempted it. It certainly looked and felt like Nazism. But even so, given that Germany's position had radically changed since the days of the Versailles Treaty, the SRP's program differed from the original.
Most people, when they use the word 'Neo-Nazi', are referring to the American/British variety. The movement was founded by George Lincoln Rockwell and Colin Jordan, two [chaps] who loved dressing themselves and their followers up in brownshirt uniforms. One couldn't find anything more different from German National Socialism: the 'Neo-Nazis' insisted – and still do – that National Socialism was intended, not only for Germans, but for 'all white people', including Russians, Czechs and Poles! These 'white nationalist' beliefs have been adopted by the skinhead movement.
*   *   *