Winter Solstice arrives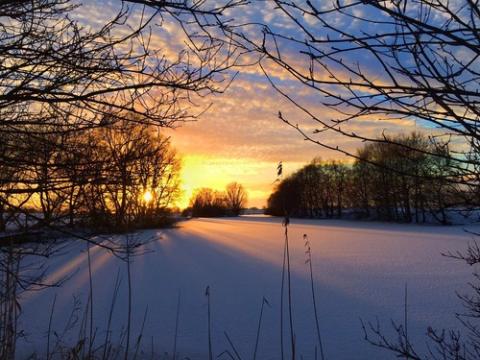 THE WINTER SOLSTICE MARKS THE SHORTEST DAY OF THE YEAR in the Northern Hemisphere, when the sun appears at its most southerly position, directly overhead at the Tropic of Capricorn. It marks the longest day of the year in the Southern Hemisphere.
The solstice usually takes place on December 21. The exact time of the 2018 winter solstice will be 22:23 Universal Time. That would be 5:23 p.m. ET (for parts of Canada, the United States and Latin America).
Because the Earth is tilted on its rotational axis, we experience seasons here on Earth. As the Earth moves around the sun, each hemisphere experiences winter when it is tilted away from the sun and summer when it is tilted toward the sun. Scientists are not entirely sure how this tilting occurred, but they think that billions of years ago, as the solar system was taking shape, the Earth was subject to violent collisions that caused the axis to tilt.
The summer solstice is when the sun's rays are farthest north over the Tropic of Cancer, giving us our longest day and summer in the Northern Hemisphere.
A special 'Cold Moon' this year
Our last full moon of the year will come less than a day after the solstice. it will occur on Saturday, December 22, at 17:49 Universal Time (that's 12:49 p.m. ET). However, when you're looking out into a clear sky on Friday night, the moon will appear full to you—and could be so bright that people with pretty good eyesight could read by it.
Over many centuries, this moon has been called several names: Cold Moon, Cold Full Moon, Long Night Moon (by some Native American tribes) or the Moon Before Yule (from the Anglo-Saxon lunar calendar).
If you're wondering how special this Cold Moon is so close to the solstice, it will be 2029 before it happens again. So it's not a once-in-a-lifetime event, but still, you don't see this too often.
Happy Solstice!