Varoufakis caught giving the "stinkefinger" to Germany, then blames German media for faking it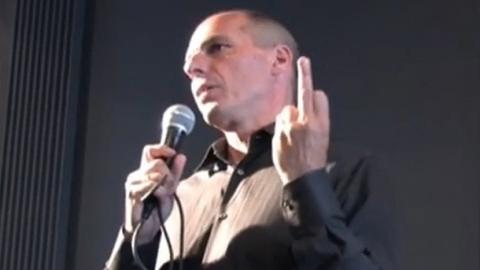 Video still of Yannis Varoufakis, at that time a Marxist economics  professor, shows him "giving the finger" during a lecture in Zagreb in 2013, as he was speaking about Germany's role in the Eurozone.
For latest update on this fracas, see here. "Greek Finance Minister TAKEN IN by German satire" ... as were millions of Whites who also want Greece to stick it to Germany. The finger video is NOT fake, but Varoufakis is.

The current Greek ruling party is carrying on business by pointing the finger everywhere but at itself for it's various problems and errors of judgement. Now comes Den Stinkefinger debacle!
During a speech in Zagreb, Croatia in 2013, the now (but not then) Greek Finance Minister said that Greece should have defaulted back in 2010, and thereby "stick the finger to Germany and say, You can now solve this problem by yourself." As he said this, he stretched out his arm toward the camera and raised his middle finger. Watch the clip

The bigger problem for Varoufakis is that he immediately claimed that the film has been faked. "This is a fake video," he said on a German talk show hosted by Gunther Jauch. Allessandro Del Prete , the cameraman for the 2013 speech, vehemently denied on Sunday night via Twitter that the video was fake. He said he had cut only six minutes off the 57-minute presentation and uploaded it on Youtube. "Absolutely not fake," he twittered in German (Absolut nicht gefälscht).
Varoufakis went on to say that he had "never in his life" made that gesture , and never would. That's why he knows the video is faked. Del Prete defends the authenticity of his video with: "Look at the lips, he says what we hear, and the middle finger is visible. No fake ..."
What do the video experts say?

There is no evidence of tampering. As long as no other video of the show appears, which is different from the version now known, there is initially no evidence that the images were manipulated.
What does Varoufakis say?

On Monday he released this: "The video was faked without a doubt," he told SPIEGEL ONLINE. "It is a deplorable attempt to torpedo a TV show in which I have tried to offer the German public a hand of friendship." He complained further that the television production company of Jauch sabotaged his performance: "It is inconceivable that they (the editor) did not know that the video was faked."
Elsewhere he said:

    "The material is of the conference, very well. But the finger has been purely mounted. I tell them this without a doubt. Take it for what it is. It did not exist."

    "This has been mounted. I've never done anything like this. I am ashamed that one trusts something like this, such a video. I'm sure you did not know. But this is faked. "

And what do Jauch's editors say?
"His accusations that we sabotage, we reject," said Simone Bartsch, the spokeswoman for the Jauch-production company. "With our current knowledge, we see no signs of tampering or forgery in the video." On Monday afternoon, the production company sent out a press release in which it calls the film clip, after examimation by several experts, authentic. A spokesman for the State responsible for NDR Talk Show had previously said. "There is currently no evidence that the video is fake."
Who would you believe in a spat between Germans and Greeks? Well, I haven't heard the Prime Minister Tsipris coming to the support of his Finance Minister.