Suicide bomber who killed 10 German nationals was registered Syrian "refugee"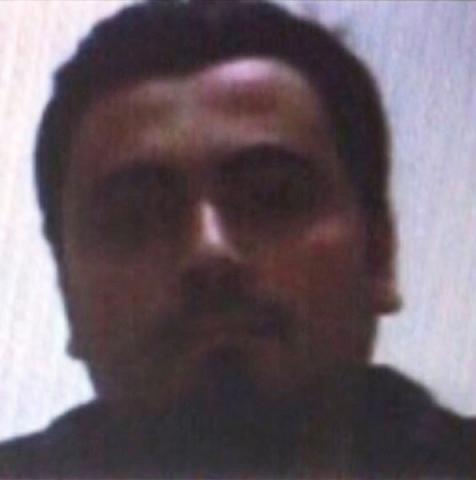 The bomber Nabil Fadli, registered in Istanbul as a refugee from Syria. This picture was published by the Turkish police on January 5.

The suicide bomber has been identified as 27-year-old Nabil Fadli, who entered Turkey from Syria as a refugee on January 5. Considering he didn't waste any time in killing some of the first Europeans he found, it's pretty clear that was what he came for.
Eleven tourists, 10 of them German, were killed and 15 wounded (7 of them German with 5 in intensive care). Chancellor Merkel offered condolences yesterday to the families of the dead without specifying Germans, but since the news broke that the bomber was a registered Syrian asylum-seeker it has fallen entirely to Interior Minister Thomas de Maiziere (CDU) to be Germany's spokesman on the matter. He traveled to Istanbul and called the tragedy "an attack against humanity," playing down the German loss and emphasizing the close relations between the two countries.  In fact, he said Germans should not stop visiting their close ally Turkey because tourism must not be depressed.
The ruling administration in Germany does not care about its own people, and in fact makes them into 2nd class citizens in their own country. They seem to have interiorized the excessive lies of the Nuremberg Tribunals carried on by the revengeful victors. Merkel's administration is totally committed to the Europe idea and wants German identity to disappear into a European identity. Blot out German-ness, is the idea that Germans are given. Except for what is necessary for tourism and the economy to flourish. However, apparently even that comes second to "One Europe", in which Merkel is now working to include Turkey.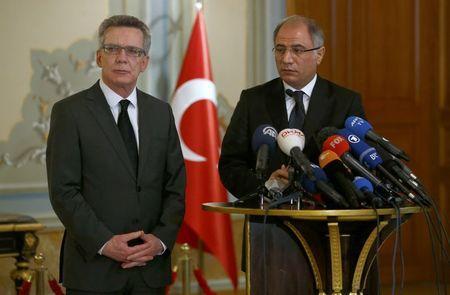 So Interior Minister de Maiziere, paying his formal visit to the scene of the crime, announces that both countries are affected by terrorism and must work together to counter the threat. "Germany and Turkey are coming even closer to each other," he said.
Image right of Maiziere with Turkish Interior Minister Efkan Ala, addressing a news conference in Istanbul.
Meanwhile, the discovery that the murderer of 10 Germans was an asylum-seeker from Syria—those whom mutti Merkel invited back in September and has never rescinded that invitation—will have deep repercussions in Germany. One would hope.