A short review of today's PEGIDA Dresden rally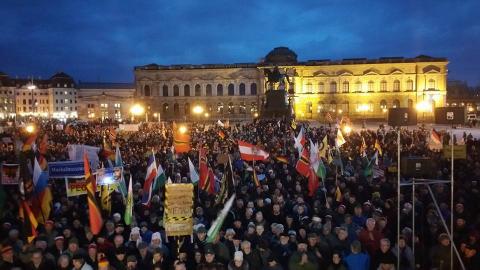 It's cold and cloudy, with occasional showers in Dresden, as Pegidans gather in Theater Square on March 21, 2016.
Watch the livestream replay: https://www.youtube.com/watch?v=n92nMa61Fvs
6:45 pm: Lutz Bachmann opens the meeting and makes fun of Bavarian CSU (Christian Social Union) leader Horst Seehofer, to the delight of the listeners.
He says Pegida is neither xenophobic nor hostile to immigration. However, they want quality rather than quantity. He therefore calls attention to the third Dresden thesis and proceeds to read all ten to applause from the crowd.
7:00 pm: Ed Utrecht from Holland is the next speaker. He reported on the sedition trial of Geert Wilders, which has just started in Amsterdam, and praised Wilders for telling the truth about "this idiotic ideology of Islam" for 11 years under constant threats on his life, calling Wilders a hero.
7:20 pm: Siegfried Däbritz talks about the money given to the migrants (currently almost the Hartz IV rate) as being the true reason for the great migration. He said the influx began in 2012 after the increase of the cash payments that had been ordered by the Federal Constitutional Court.
He gives the example of Portugal which agreed to take in 4000, but so far has only 150 because they give only a fraction of the money that "Germoney" offers. He warns that the patriotic parties will have further successes but that after the elections of 2017 will "do nothing." He says the AfD must join together with other anti-Islamic parties in Europe (and names them) in solidarity. Only a common European resistance can change things in Europe. [I'm not so sure of that -cy]
8:10: After the "walk" Tatjana Festerling speaks of George Soros and the consultant for the Merkel-Turkey deal, Gerald Knaus. She says he is also in the Soros circle. She says their words prove that Europe is already Islamized.
She recalled that billionaire Soros has openly called for a European central government and last September said that "Europe had to absorb more than a million asylum seekers and migrants per year and integrate." She compared him to a "loopy cult leader."
"I ask Mr. Soros: Why should Europe follow your own ideas?"
She said something interesting from Prof. Dr. Gunnar Heinsohn, who had asked the question some months ago: "Why don't the refugees remain in the Middle East?"
Heinsohn suggested that Merkel and the EU should negotiate with the Organisation of Islamic Cooperation (OIC). The fact is that 57 Muslim countries have almost 26 million square kilometers of land, more than 75 times as much space as Germany and 6.5 times as much as the entire EU. Ten million refugees were there with 1.5 billion inhabitants, only 0.6 percent of the total population, and even 100 million fleeing Muslims would only add 6 percent more to the migrant share - tiny compared to the ratio in Germany. [This is similar to what Donald Trump says -cy]

She talked about other things and then proposed that the whole of Germany should give a sign by refusing to work on April 4th (when the Turkey deal goes into effect). One should call in sick. This single day could be a sign  and send a signal to the world.
8:34: Siegfried Däbritz closes the event. The next rally weill be on April 4th, in two weeks. Bachmann explains that they've chosen to take an Easter break so the folk, including the police, can spend Easter Monday with their families.