Russia's Lavrov berates Ukraine for being anti-Jewish at Munich Conference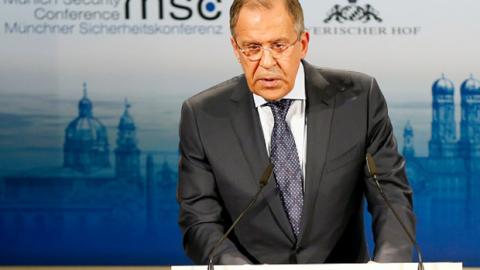 Russian Foreign Minister Sergei Lavrov at the Munich Security Conference on Feb. 7th makes his audience laugh at his outlandish rewriting of history.
Russian President Putin and his foreign minister Sergei Lavrov are making it difficult for their White Nationalist followers and supporters every time they use the word "anti-Semite" or "persecution of Jews" directed against the Ukrainians--and the're using those words a lot lately.
Putin has made it increasinly a defining part of his national and international policy to defend and embrace Jewish interests and culture in Europe--a position that is 180 degrees away from what White Nationalists say they believe. But most WN's appear to be non-plussed by it and take the stance that the Russians are not really serious about what they say.
Not serious?
At the Munich Conference yesterday, Lavrov drew laughter and boos during his 45 minutes on the stage while his superior, Putin's chief of staff Sergei Ivanov, sat directly in front of him in the front row. Among the gems Lavrov offered to the conferees:

The

Ukrainian military and government are anti-Jewish;

The Hungarian minority in Ukraine was being mistreated [but where are the complaints from the Hungarians? -cy];

The U.S. agreed to negotiations with the Taliban but does not support the same between Ukraine and the Eastern separatists;

The Russian annexation of Crimea was an example of the people "invoking the right of self-determination" and "You've got to read the UN Charter. Territorial integrity and sovereignty must be respected."
The audience burst out laughing at this, since Crimea had been invaded by unmarked Russian troops. But laughter turned to scorn when Lavrov compared the Ukraine crisis with the division of Germany during the Cold War.
"Germany got reunited without a referendum and we were an active supporter of that process after the Second World War. You will remember that it was the Soviet Union that was against splitting Germany."

Now the largely German audience began to boo, apparently not remembering the Soviet Union as helpful in bringing about reunification, but in reality as putting up the Berlin Wall. The Swedish prime minister Carl Bildt tweeted that Lavrov should "feel ashamed of having to market such rubbish."
A possible explanation for Russia's behavior: have you ever read "Putin The Good Goy" by Eduard Hodos (The Jewish Syndrome-3)? Maybe it's time you did.