Retarded Somali rapist gets 4 years therapy and speech training in Germany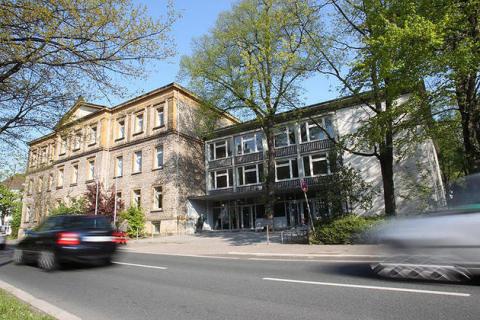 It took six days at Herford Local Court (above) for the judges to reach a verdict against the 20-year-old Somali. Photo: Moritz Winde
---
In Herford, in NRW state, an 88-year-old woman was raped by a 20-year-old "refugee" from Somalia. The juvenile court considered the man to be "traumatized by the journey (migration), less gifted with delayed maturity, and completely lonely" … yet able to know right from wrong.
The very elderly woman, who was left bruised and hemorrhaging, was no doubt left traumatized too … but being a German, it's obviously considered she can take it (and even probably deserves it, as the thinking goes). I would like to think she was one of the supporters of Merkel's policies so that she actually did get what she deserved, but by the age of 88 one invariably has developed better sense. We all get more conservative as we get older. Thus I have great anger over the treatment of this woman.

The idiot Somali had been living in an emergency shelter in Bad Oeynhausen, from where he had repeatedly knocked on women's front doors, asking if they would have sex with him. In his own words, he was looking for a woman to marry so he could have the right to stay.
This past summer, he went at night by bicycle to Porta Westfalica to a house where he knew an old woman lived. He got in through an open bathroom window, overpowered her (easy enough) and raped her. The stupid "refugee" first claimed the sex was consensual, but could not explain the hematomas and hemorrhages on the 88-year old's body.

Therefore, he was sentenced by the Herford District Court to four years imprisonment, during which time he will receive therapy and speech training. Oh my God! In his home country, I suppose he would be castrated. But German law was designed for Germans, not for witless black primitives. No wonder he wants to stay in Germany. The victim should sue the State of North Rhine-Westfalia for allowing her to be put in such jeopardy.
Meanwhile in Dresden ...
Four girls aged 11 to 13 years were at a water park in the city center of Dresden yesterday afternoon. Around 4:15 p.m. they reported to the lifeguards that they had just been repeatedly touched (in an immoral way) by at least one man. The police were called and asked the girls to show them the man, who was provisionally arrested. He is a 19-year old Afghan asylum seeker. The identity of two of his compatriots was also discovered. But while the Dresdner criminal office takes up the investigation, the 19-year old had to be set free again.
All of this continual sexual criminality should be enough to make a decently-run country stop accepting refugees—at least other than women and children. But this is not the point. The point is to bring about a new status quo that consists of people of all races and cultures being forced to live together in the same spaces. This is the goal of the globalists and the world controllers. They didn't start this goal in 1945, but that is when they destroyed the last of any effective resistance to it. We need to understand this. Without this understanding, the overthrow of the current Jewish stranglehold on the Western world is impossible.