Listen to Saturday Afternoon with Carolyn Yeager
Persecution of Matt Hale and the lie of equal rights under the law

Saturday, Sept. 20th at 2pm Central U.S. time (3pm Eastern, 12 Noon Pacific) live on Carolyn's BlogTalk Channel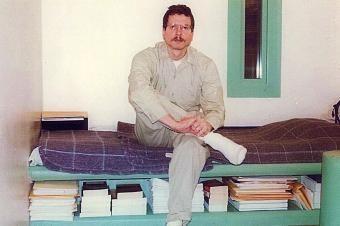 Carolyn Yeager speaks with Evelyn Hutchison, mother of Reverend Matt Hale, during the first hour. Ms. Hutchison describes new efforts to free the founder of "The New Church of the Creator," now called The Creativity Movement, from the 40-year prison sentence of which he has already served 11 years.
Carolyn will continue in the 2nd hour to discuss other examples of unjust exercise of power by the post-WWII Global World Order--an alliance of the USA, UK, France, the Soviet Union (now Russian Federation) and World Jewry.
Image: Matt Hale, now age 43, in his maximum security cell at Administrative Maximum, Florence, Colorado.
See you then,
Carolyn