A National-Socialist has a voice in village debate over migrant influx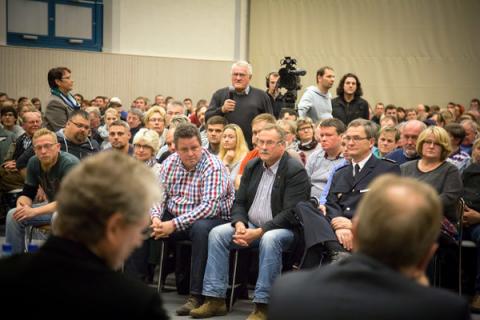 It appears that every resident of Sumte attended a meeting on Wednesday to discuss the plan to move 1000 migrants from Africa and the Middle East to their village. The Mayor is in front row cemter, in jeans. Photo credit Gordon Welters for The New York Times
Holger Niemann, 32, a self-described National Socialist and admirer of Hitler, is an elected representative on the district council that governs over the small village of Sumpte, Germany – population 102 - in Lower Saxony. He sees opportunity in the migrant crisis. "It is bad for the people, but politically it is good for me," Mr. Niemann said of the plan, which would leave the German villagers in Sumpte outnumbered by migrants 10 to one.
Germans face "the destruction of our genetic heritage" and risk becoming "a gray mishmash," Mr. Niemann says, predicting that public anxiety over Mrs. Merkel's open-armed welcome to refugees would help demolish a postwar political consensus in Germany built on moderation and compromise.
Niemann has said the he rejects violence, and that "We are not extremists, but people have become so soft that we seem extreme."
Not allowed to speak at the village meeting last month, Mr. Niemann and some followers made vocal comments to speakers who voiced sympathy for refugees, and waved banners demanding an end to "asylum terror."
At a follow-up meeting between officials and villagers this past Wednesday, Mr. Niemann stayed silent, taking notes.
Niemann's alter-ego Reinhold Schlemmer, a former Communist who served as the mayor here before and immediately after the collapse of East Germany, said people like Mr. Niemann would "have been put in prison right away" during the Communist era.
"Now they can stand up and preach," he said. "People say this is democracy, but I don't think it is democracy to let Nazis say what they want."
Mr. Schlemmer is among those concerned that [far-right] extremists are exploiting widespread concerns, even in the political mainstream, over absorbing vast numbers of refugees
Another is Dirk Hammer, a Sumte resident who said that he felt sympathy for the refugees, but that he feared the sheer number of people dumped with little warning in places like this could offer "an ideal platform for the far right."
"I get stomachaches from fear of what is going to happen — not just here but in the whole of Germany," he said.
Mr. Niemann and like-minded National Socialists deride such views as alien imports imposed by the United States and other World War II victors. When Mr. Niemann took the floor at a meeting in October between villagers and regional officials responsible for migrants, Mr. Hammer snatched away the microphone.
"We have to take a clear stand against these people," Mr. Hammer said later, noting that his family had lived in Sumte for 400 years. He dismissed Mr. Niemann, who lives in a village a couple of miles down the road, as a disruptive outsider.
Just more evidence that the majority Germans, like middle-class White people everywhere, are more against and afraid of nationalists on the right of the political spectrum who share their own nationality and live in their own town, than they are of Black Africans who can never, ever assimilate and who will marry their daughters!!! This is the product of the Allied brainwashing mentioned by Niemann above.
Mr. Hammer himself initially reacted with horror when he heard of plans to move refugees into the empty office complex, built by a now-defunct debt collection company. He wrote an angry open letter on Facebook expressing his fury as a longtime supporter of Merkel's Christian Democratic Union party who felt betrayed.
"If we are being used as dumping ground, this shows the situation is out of hand," Mr. Hammer said in an interview at his family's home, a modernized farmhouse.
But he has curbed his anger and rallied to efforts by the mayor, Mr. Fabel, to make sure that extremists do not capitalize on the widespread unease among residents. He said he knew people who "are not far right, but who are afraid and their fear is being exploited."
Niemann represents a politically right coalition on the district council that includes the National Democratic Party (NPD), and Die Rechte (The Right).
Mr. Fabel, the mayor, said, "Many families here suffered during the war, so they will think twice about joining extremists."

A fait accompli
Fabel said he realized that there was no point in trying to block the plan when, at the initial meeting, he asked Mr. Götz, the regional official in charge of finding places for migrants, whether Sumte had any choice. "You have two options," he said he was told. "Yes, or yes." Mr. Götz declined to be interviewed.
But in a small concession to the villagers, Götz only this week told them that the initial number of refugees, who start arriving on Monday, would be kept to 500, and limited to 750 in all. This is supposed to give the village a feeling of relief, I suppose.
The asylum seekers will stay in Sumte only as long as it takes to process their applications for refugee status. But those who move on will eventually be replaced by new arrivals, as the vast stream of refugees and migrants shows no signs of slowing.
"Life here is going to change," the mayor said.
http://www.nytimes.com/2015/11/01/world/europe/german-village-of-102-braces-for-750-asylum-seekers.html