More Putinisms promoting false Soviet-style narratives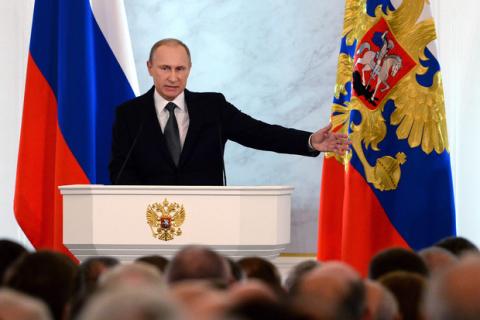 Russia's President Vladimir Putin addresses the Federal Assembly, including State Duma deputies, members of the Federation Council, the heads of the Constitutional and Supreme courts, regional governors, heads of Russia's traditional religious faiths and public figures, at the Kremlin in Moscow, December 4, 2014. Vasily Maximov/AFP via Getty Images
In a major speech from the Kremlin today, Putin gave something of a "state-of-the-Union" report to members of the government and religious leaders that reveals Putin's own state-of-denial. He continues to praise and identify with the Soviet Union and its communist allies such as Yugoslavia, while never mentioning the mass murder they carried out. Some mind-bending quotes from the speech follow:
"Hitler, with his humanity hating ideas, was going to destroy Russia and throw us back behind the Urals. Everyone should remember how this ended."

"Next year we will commemorate the 70th anniversary of the victory in the Great Patriotic War. Our army overcame the enemy, freed Europe."
"There is no doubt they would have loved to see the Yugoslavia scenario of collapse and dismemberment for us – with all the tragic consequences it would have for the peoples of Russia. This has not happened. We did not allow it."

"We will never pursue the path of self-isolation, xenophobia, suspicion and search for enemies."

On Ukraine, Putin signaled 'no change' with these conspiracy-invoking words about the sanctions:
"I am sure if none of this happened, they would have invented another excuse to hold back the growing potential of Russia," . "Every time they believe that Russia gets too strong, they use these instruments. But it's pointless to talk to Russia in the language of force."
Another translation of the above:
"I am certain that if all this did not take place... they would come up with another reason to contain Russia's growing capabilities. Whenever anyone thinks Russia has become strong, they resort to this instrument."
Crimea holds sacred meaning for Russians, forever.

The seizure of eastern provinces by Russian-speaking separatists prove that Moscow's policy was/is right.

"We are ready to meet any challenge of the times and win."

*      *      *
Separate note on Islamic growth in Russia:
Since Vladimir Putin became president, the Muslims of Russia have erected 7500 mosques or slightly more than one per day, a statistic in which the Islamic community of that country can take great pride but one that may disturb some of Putin's supporters who believe that he is committed to making Russia more Russian. http://www.nakanune.ru/news/2014/12/3/22379206