Latest news on the National Socialist Underground (NSU) Trial - No soot in the two Uwe"s lungs
My last post on this favorite subject was on Oct. 16, 2013. The reason for that is because there's been no news in English. Thus, I let it slip my mind. However, I just talked to a German friend and thought to ask him about what was happening in the trial. "Lots," he answered, and proceeded to clue me in. In the end, he sent me two articles in German and I Google-translated them. This is information the English-language outlets are not publishing ... such as Der Spiegel Online and The Local and Deutsche Welle.
So the following is my synopsis of the most interesting development in the trial to date. I wish I had more than just the bare bones, but this will have to do for now. The "two Uwe's" are Uwe Mundlos and Uwe Boehnhardt, who are accused of murdering 9 people.
*    *    *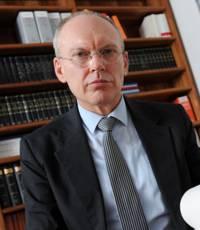 The impression of many lawyers is that Judge Götzl [right] wants to protect the system, thus he cannot find the real killer.

What has been clear for a long time to any reasonably clear-thinking person, is now officially confirmed: The autopsy of the two Uwes found no soot particles in the lungs, which means the official account of their death - "setting fire to their van, followed by a murder-suicide" - cannot be correct. The dead do not breathe.

The autopsy result best matches other testimony that:
1) The two Uwe's were shot somewhere else (which is why the residents did not hear any shots);
2) The camper with the two bodies in it was driven by a third person, who started the fire to cover his tracks (this explains the witnesses who saw a "third man" whose DNA has incidentally been found in the camper).
Dorothea Marx of the SPD (Social Democrat Party) and NSU Committee chairman referred to the latest findings as "very doubtful" which would be a clear lie. She says this because, with these findings, the official story is completely impossible!
I will be reporting more as I am able to find it. My German friend will no doubt pass it on to me. -cy