Landmark German Protestant Church sold to Muslims; will become a mosque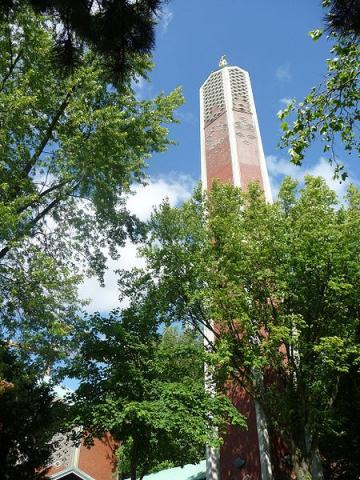 This is news because it is the FIRST TIME a Protestant church in Hamburg, Germany's second largest city, will be converted into a mosque, according to my correspondent who calls it "a breach of taboo and a break in a dam."

Kapernaumkirch (Capernaum Church), pictured at right, a cultural heritage site, is located in the Horn district in downtown Hamburg. It was abandoned in 2002 for financial reasons due to declining membership. From this article:

The building and an adjacent 44 meter (144 foot) tower/steeple as well as the surrounding land was sold in 2005 to an investor, the Al-Nour Islamic Center, which has approximately 600 members, mainly made up of Arab Muslim immigrants from the Middle East and North Africa.
The church is currently undergoing renovations at a cost of one million euros ($1.4 million) and is scheduled to be reopened as a mosque on October 3, the Day of German Unity [Tag der Deutschen Einheit], a public holiday commemorating the anniversary of German reunification in 1990. Muslims in Germany have also claimed October 3 as Open Mosque Day [Tag der offenen Moschee], a day when non-Muslims are allowed to visit mosques.
Read more in English here.