Komisarjevsky Jury Didn't Take Elie Wiesel's Advice
By Carolyn Yeager
Jury decides that death is the answer.
On Friday, December 9, the jury deciding the fate of home-invasion rapist/murderer Joshua Komisarjevsky rejected mitigating circumstances presented to them by Defense Council and decided for death on all 6 counts.  This was hailed by the general public (as noted in immediate comments to newspaper stories1), while it was a disappointment to the state of Connecticut's largest newspaper The Hartford Courant, some Connecticut lawmakers and Elie Wiesel.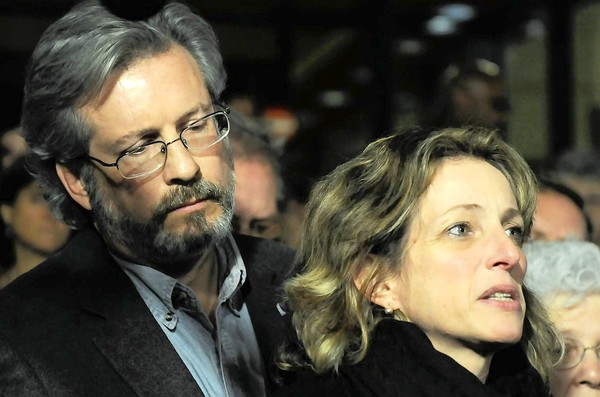 Above: Dr. William Petit, sole survivor of the brutal 2007 home invasion by Stephen Hayes and Joshua Komisarjevsky that took the lives of his wife and two daughters, watches as his sister Johanna Chapman thanks the jurors for taking their time to come to the "right decision" in this painful and disturbing case. Chapman attended all the court sessions with her brother.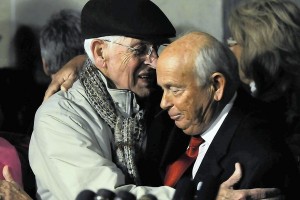 Above: The father of murdered Jennifer Petit, Rev. Richard Hawke. on left, embraces Christopher Komisarjevsky (right), the uncle of Joshua Komisarjevsky, outside the courtroom after the verdict was read. The elder Komisarjevsky, who strongly resembles Nikita Khrushchev in this profile pose, has written that his father, Theodore Komisarjevsky, was a renowned theater director from a famous Russian theatrical family. His mother was a leading figure in modern dance, a teacher and a writer. He is himself the former chief executive of the prominent public relations firm Burson-Marsteller. Joshua Komisarjevsky was adopted as an infant by Christopher's brother Benedict; his mother unknown. Christopher K. was the only family member to attend the sentencing trial, during which time he made friends with the Hawke and Petit families.
On Oct. 26, 2010, Wiesel made a speech in Connecticut while the trial for Steven Hayes was in session, calling on the jury to not give the death penalty to either Hayes or Komisarjevsky for their brutal torture/killing spree. In his speech Wiesel repeated the words "Death is not the answer."  I posted this article about it in October on Elie Wiesel Cons The World.  Continue reading at Elie Wiesel Cons The World.