July 20: German Social Democrats commemorate 1944 traitor-assassins as founders of the current EU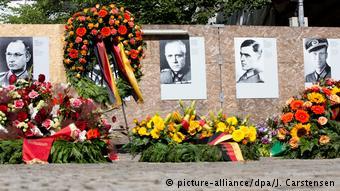 In the courtyard of the Bendlerblock, July 20th. Main plotters' portraits visible among the floral arrangements, left to right, Friedrich Olbricht, Ludwig Beck, Claus von Stauffenberg, Werner von Haeften.
---
By Carolyn Yeager
THE DATE OF JULY 20TH IS USUALLY PASSED FAIRLY QUIETLY IN GERMANY. But this year, although not a milestone year, it's being played up more strongly, possibly because of the important Bavarian state election coming up in October amid fear of strong support for the nationalistic AfD party.
Deutsche Welle writes that it is "usually framed as a celebration of the re-establishment of justice in Germany following the aberration of Nazism, but this year there was a clear note of defiance against new far-right populism in Europe and around the world."
The commemoration took place in the courtyard of the Bendlerblock building in Berlin, which houses the Federal Ministry of Defense both in the 1940's and now. It is sponsored not by the government but by something called the July 20, 1944 Remembrance Foundation and the Bundeswehr. Foundation chairman Robert von Steinau-Steinrück spoke about the "populists" in jealous terms:
"They claim for themselves the sole right to represent and recognize the true will of the people. Their actions and their language are totalitarian, but the resistance was anti-totalitarian. For that reason I want to make clear once again – also in the names of the families of the relatives – that the foundation of July 20, 1944 distances itself in the strongest possible terms when right-wing populists try, as now happens every July 20, to use women and men of the resistance for their own aims. That is nothing less than abuse."
Both Foreign Minister Heiko Maas and Berlin Mayor Michael Müller also used their speeches to express outrage that 'far-right' populists in Germany staged their own commemorations for the July 20, 1944 plot – though without naming the far-right Alternative for Germany (AfD) party directly.
Doesn't German history belong to all the German people, not to a select few political parties who want to interpret historical events for their own use and benefit? All the current leaders in the AfD are real, genuine ethnic Germans, which cannot be said for the leftist party leaders, who pride themselves in introducing foreigners and foreign interests into German politics.
Maas aggressively invoked those he saw as holding a pan-European vision at that time, saying of the plotters: "For [them] it was clear; Peace in Europe could only be achieved by overcoming borders. [Their] hopes rested on a European federation – with its own army, a customs union, a common currency, and a common supreme court." This is the dangerous dream of Heiko Maas and of all the leftists in Europe.
Read: A shocking, totally inaccurate and traitorous DW "opinion piece" accusing the Wehrmacht of lacking "moral courage" during WWII.