Hungary seals border with Croatia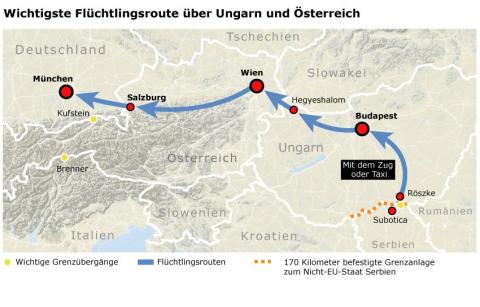 When the long border with Croatia (Kroatien) is fenced off, that will leave only the short border with Slovenia (Slowenien) open. If/when that is also closed, it will increase the length and difficulty of the migrant's trek. (Map courtesy Spiegel Online) enlarge

Foreign Minister Peter Szijjarto announced that Hungary would seal its border with Croatia at midnight. He said the EU summit in Brussels did not make progress on the refugee issue on Thursday (specifically on a plan backed by Hungary to send EU forces to block migrants from reaching Greece), leaving Hungary with the need to protect its own borders. It will install two transit zones where travelers can be checked and, if permitted, be allowed to enter at official crossing points.
As the map above shows, barbed-wire fences installed by Hungary on its border with Serbia have caused the migrant invaders to cross from Croatia into Hungary. From Hungary they cross into Austria, then to Germany - "the promised land." (Angela Merkel impulsively promised them a big welcome and tender loving care.)
Poland is sending border guards and equipment to help Hungary reinforce its border with Serbia. Expected are five vehicles with night-vision equipment, several other cars and 70 officers, according to news reports. Slovakia and the Czech Republic also agreed to send 50 police officers each.
Comments to this opinion piece are better than the essay.