"Close the borders, immediately"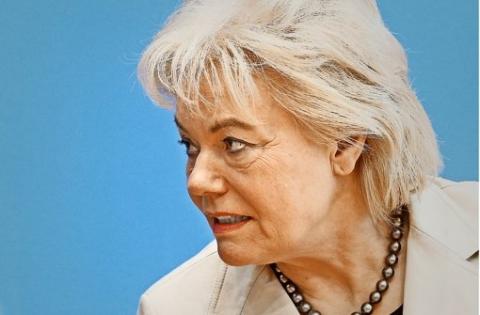 The former head of the Federal Displaced Persons, Erika Steinbach (CDU), head of the Human Rights Working Group of the CDU parliamentary group in the Bundestag.
In an interview with the Stuttgarter Zeitung on Oct. 28, Erika Steinbach said of the current migrant crisis that Germany has already crossed the line of how many refugees with which it could cope. It was noted that the old Federal Republic coped with 12 million displaced persons after the end of WWII.
Erika Steinbach: "These are two very different situations. I myself lived with my mother and my sister from 1945 to 1952 in shelters. So I know what that means. One of my first memory fragments is our room with two beds. We had a toilet bucket in the room, no heating, no stove. That was five years after the end of the war it was that way. Although, at that time Germans came to Germans. The former refugees were expelled by brute force in cattle cars or on death marches from their home in which they would have mostly liked to stay, despite all the distress. These displaced persons did not flee to a rich, "promised land" in order to be able to live better there. They were forced out to a similarly devastated, impoverished part of their own country, to people of their own ethnic group. Nevertheless, there were many aversions towards their own displaced compatriots. Back then they were bound to create solidarity, because it was their fellow countrymen who came, who were no more or less to blame for the Nazi regime, but were subjected to the same collective punishment.
"But most migrants have not come against their will, but usually pay a lot of money to come straight to Germany. Therefore, a majority of the people voluntarily come to us because there is a better future, it is hoped, not because life and limb were in acute danger. That's a significant difference. I have repeatedly made clear in my speech: We must fight the refugee causes locally. It was long foreseeable that something was brewing in the Middle East. But too many have turned a blind eye. The European Union has failed, blatantly."
*      *
"I appreciate the Chancellor. I like her human nature. She always gives each interlocutor his dignity. But in this refugee issue, I am decidedly in disagreement with the Chancellor.
"The Union (CDU) is not about to saw off the chancellor, certainly not on our own. But still, there is massive criticism of the policies of Merkel on this issue."
*       *
"If we have our own country at heart, we must insist that this influx is stopped. Namely, as soon as possible, so that we can give the people who are already here humane care, at least insofar as they are able to integrate. It cannot continue that the Leipziger Messe Halle serves as accommodation, and all gyms, community centers and army barracks are occupied by refugees. What way to proceed is that? Many migrants also have very high expectations and misconceptions of Germany. There is quite undisguised disappointment with what they find in mass accommodation. What's not understandable for me, is the joyful accompaniment of the German economy to this mass immigration, because they hoped to resolve staff shortages.
"There are in the European Union twenty million unemployed people, most of them are young people under 25 years. Our primary responsibility must first apply to our own unemployment within the European Union. The rising unemployment figures for years now in our neighboring European countries are alarming. So within our own culture there is a huge labor pool available, which the German economy obviously ignored."
*        *
"What's bitter is that the sinking [CDU] poll numbers were so predictible. The refugee policy is wrong to most people, yes deemed threatening. [...] This policy also destroys trust in our law and in the legal community of the European Union. Hardly a country adheres to the jointly agreed relevant rules. Neither the Dublin Agreement nor the Schengen Agreement. Germany has already put its self-interest ahead of the obligation to abide by the agreed rules and agreements and thus again to help the stability of the European Union. Germany takes its humanitarian responsibilities very seriously, which I welcome. We may, however, not arbitrarily overturn law and rules and dramatically give the wrong signals to the detriment of our own country."
*       *
"It is necessary to close the borders, immediately. Otherwise the European Union will not wake up. As long as Germany willingly remains the catch basin of the greatest part of the refugees, nothing will really change in the foreseeable future. With dramatic effects on our country. The world is upside down in Europe. If we do not want to inflict massive damage to our democracy, this absurd European drama has to be completed by German initiative now. This means that we need a consistent border policy. Nothing else works!"