From the archives ...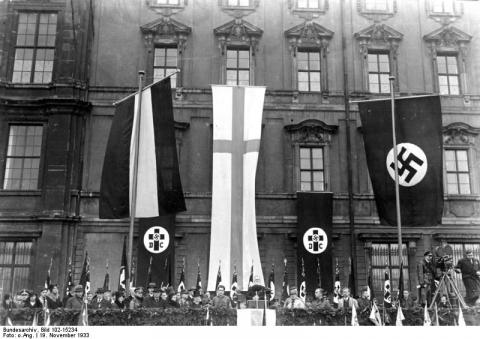 German Christians celebrate Luthertag (Martin Luther Day) in Berlin in 1933; Bishop Hossenfelder speaks.
"A Fighting Christianity," with Carolyn Yeager substituting for Bill Finck on Christogenea Saturday on November 12, 2011, is too good to be forgotten back in the archives. It is about an hour and a half.

Carolyn shares her research on the Christian beliefs found in National Socialism, and the many interesting figures who were involved - sometimes in squabbles. This German Christianity was racial and national, not universalist.
Hitler said in Berlin in 1933, maybe at the event pictured above: We were convinced that the people needs and requres this faith. We have therefore undertaken the fight against the atheistic movement, and that not merely with a few theoretical declarations - we have stamped it out.