20,000 show up for PEGIDA anniversary march, twice last week's number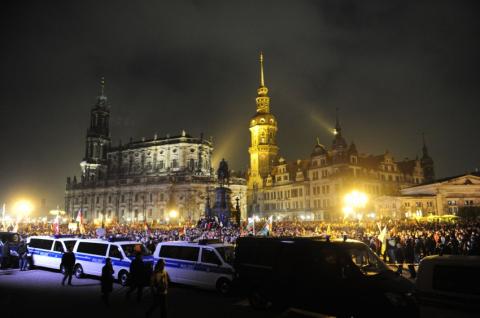 20,000 protesters marched in Dresden on the one year anniversary of the first PEGIDA march in that city on Oct. 20, 2014. It was almost back to the highest number ever, which was 25,000. Enlarge

UPDATE: 3 hour video uploaded by Lutz Bachmann

I was hoping for 20,000 and the good Germans accomplished it, according to the newspaper Sächsische Zeitung (Saxon Times), on a very cold night. You could see people's breath as they spoke and chanted. Deutsche Welle used an estimate by a student statistic group "Durchgezählt" of between 15,000 to 20,000. But they would be conservative. I would like to know how many came from outside of Dresden, and even outside of Saxony. Probably quite a lot.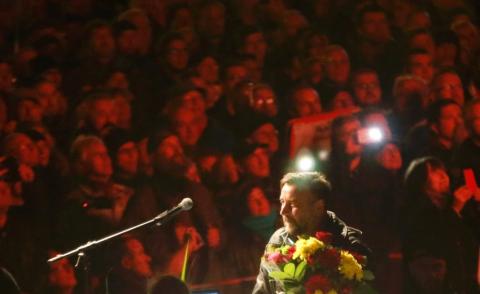 PEGIDA co-founder Lutz Bachmann (above holding a bouquet of flowers) said he "had goosebumps" as he welcomed the large crowd.

"Politicians attack and defame us and the lowest tricks are used to keep our mouths shut. We are threatened with death, there are attacks on our vehicles and houses and we are dragged through the mud, but we came in order to stay and we will triumph!" he said.
He also told the crowd that he would be pressing charges against the German Interior Minister Thomas de Maiziere for calling PEGIDA members "hard-core far-right extremists" on state television. Social Democrat de Maiziere said prior to the rally, "They describe asylum seekers as criminals, politicians as traitors. Anyone who goes there should know that they are following rat catchers."

A popular chant was "Merkel muss weg" (Merkel has to go) and "We are the people."
About the warning of German Justice Minister Heiko Mass that anyone supporting these rallies is now jointly responsible for that violence (the stabbing of the Cologne mayoral candidate), they are not worried. Maas, they said, was "part of the system" and "just afraid of losing his position."
Among the "international guests" were a representative of the Italian Lega Nord; members of populist parties from the Czech Republic, Poland and Holland; and Tommy Robinson, co-founder of the "English Defense League". The bigger names who were probably invited, such as Marine Le Pen and Geert Wilders did not come.
But more attention is given in the press to the counter demonstrators, numbering around 10-14,000 it is said, one of whom held a sign reading "Falafel instead of Bratwurst" in German, which is really shocking when you think of it. It's like saying, let Arabs replace Germans. These lefties seem to hate everything German. They are the ones who should move somewhere else.

Here's an example of the pro-government-refugee-policy type coverage:
The Saxon police prepared according to the words of Interior Minister Markus Ulbig (CDU). "We are more than 1,000 officers in action, we have the help of six Länder and the federal police," he said before the rallies. Ulbig was pleased with the many counter-demonstrators. The Saxon State Government had called on all demonstrators to [avoid] violence. Several members of the government took part in the counter-protests.
Another:
Green Party leader Peter Simone shouted at a rally at the Old Market to see the refugees in Germany as an enrichment. "We want a cosmopolitan Germany," he said. 
In the run-up to Monday's highly anticipated demonstration, Dresden Mayor Dirk Hilbert issued a statement against racism, hatred and violence. He also launched an anti-PEGIDA campaign on Facebook.
Some of the counter-demonstrators behaved in a violent manner. They attacked Pegida marchers and the police. One Pegida protester was reportedly "seriously injured" by "unidentified assailants." He was in a  group of Pegida strollers who were attacked with iron bars! Will we hear any more about that? It's always the antifas and communists who initiate physical force and murderous weapons at these demonstrations.

Here are some images I like: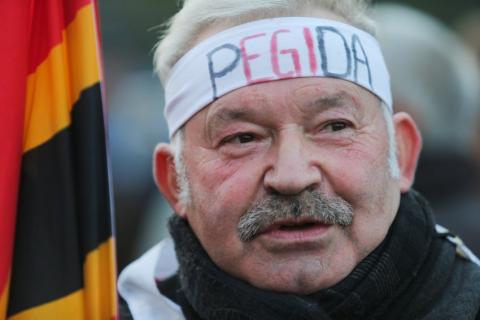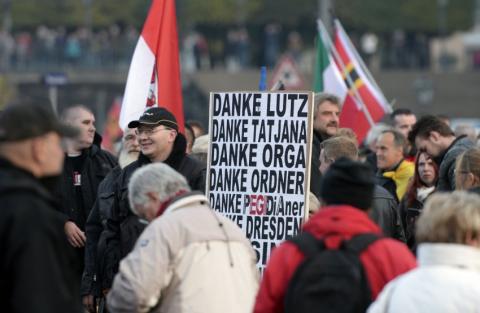 Think of all the energy it takes for these people to come out every week. God love them. Our people.

Wednesday, Oct. 21 -- The keynote speech has aroused "outrage" (see comment below on Akif Pirincci) especially because of the sentence about "concentration camps." ["Of course, there would be other alternatives to deal with Germans who don't agree with the current integration policy. But the camps are unfortunately currently out of service."]
I have learned that it was a reference to the reaction of CDU politician Walter Luebke to a statement made in a public meeting by a discontented citizen on the reception for refugees in Kassel. Luebke had answered: Those who are not happy with our German values are free to leave Germany at any time. We have freedom here."

This man Akif has clever speech, too clever for the rulers of this Allied Occupational Construct-State. Its ministers are searching for ways to prosecute him.
Video of full proceedings
Special viisual effects "March to Demo" video
more updates to come ... when I find something.