Was Adolf Hitler a socialist?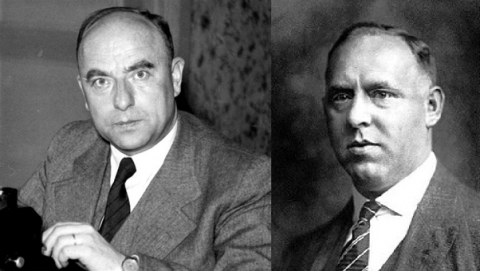 Brothers Otto (left) and Gregor Strasser were early Socialist members of the NSDAP, as well as veterans of the Great War and the right-wing Bavarian Freikorps in 1919. Otto then turned further to the Left and was expelled from the Party in 1930 because of disputes with Adolf Hitler.

---
by Carolyn Yeager

WAS ADOLF HITLER A SOCIALIST? ACCORDING TO HIS conversations with Otto Strasser in 1930, as reproduced below, the answer is a clear No.
In a recent conversation with my nephew, a 'constitutional conservative', he reiterated that his main complaint against Hitler is that he was a Socialist, and the NSDAP was a Socialist party. Even though I try to explain to him that Germany's "National Socialism" was not the Soviet-style or even a garden-variety socialism, and Hitler was not actually a socialist, my nephew will not accept it, pointing to a couple of items in the NSDAP party program's 25 points that "were never changed."
If you think the same, or know someone who does, you might appreciate two articles I found to send him that do a good job of showing why Hitler was not a socialst: at fullfact.org and at vox.com. Check them out. In addition, I was really happy to discover a 'debate' between Adolf Hitler and Otto Strasser, one of the more left-wing socialist members of the NSDAP along with his brother Gregor. I'm somewhat chagrined to say I've never seen it before now, not being any kind of a fan of Otto Strasser and having no desire to read about him. But to the extent what Strassser wrote is accurate, he gives a a very convincing (to me) explanation of the Leader's beliefs. Continue reading at Carolyn Yeager