Tattoo Crimes—Elie Wiesel should be investigated for holocaust fraud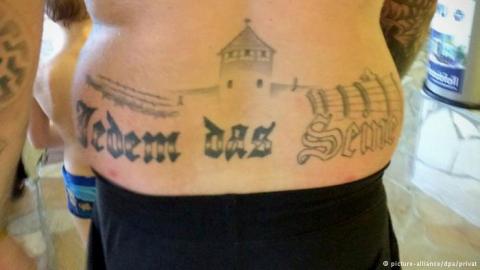 The tattoo that, if seen by the public, will incite hatred for Jews, according to prosecutors and courts in Brandenburg, Germany. But why wouldn't it incite sympathy just as well?
By Carolyn Yeager

In a Berlin court, a German man is convicted for having a tattoo resembling a concentration camp entrance on his body.
Why then is Elie Wiesel not convicted in Germany for not having a concentration camp tattoo on his body, but saying he does?
Wiesel was in Germany at least three times  impersonating a "nazi" concentration camp survivor. His first visit was in June 1986 when he spoke in Loccum, West Germany as the author of the book Night, which he claims to be a record his own experience. In Night, the main character is  tattooed with the number A7713 on his left forearm, which Elie claimed under oath in California is still there on his arm. Apparently, no one in Loccum asked to see it.
He returned the next year in November 1987 and spoke in a modern conference center inside the shell of the destroyed Reichstag. The title of his talk was "Reflections of a Survivor" in which he, as in the prior year, couldn't keep from speaking words of blame toward the German people.  Continue reading at Elie Wiesel Cons The World