Survivor stories are a genre that prove the "Holocaust" is a Jewish hoax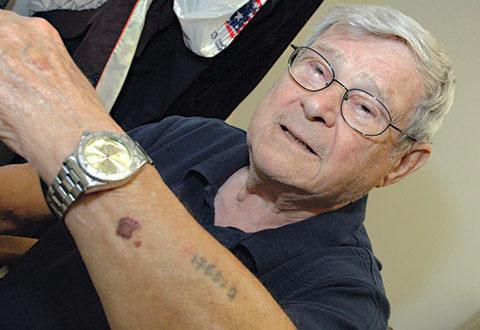 Paul Argiewicz proudly shows off his Auschwitz tattoo which is his best proof he is a holocaust survivor. But it's the details of his story that are suspect, as is true of all surliever stories.
By Carolyn Yeager
THERE HAS NEVER BEEN a survivor story that passes the test of truth and accuracy – not one! Isn't that amazing? They are all filled with exaggerations and downright lies. And that really tells us something, because "the Holocaust" is in actuality nothing more than a collection of survivor stories. I am not an expert in revisionist historiography, but I think I can say with confidence that no scientific/forensic evidentiary support for a "Holocaust" exists. Documentary support is both sparse and dependent on questionable or uncertain interpretations. That leaves us with witness accounts from those who were in the concentration and work camps to tell us what "the Holocaust" was.
It's been known for a long time that eye-witnesses are the least reliable evidence for what really happened in any given situation. Forensic evidence is the best, and even circumstantial evidence is superior to eye-witness. The stories that were told by false eye-witnesses in 1945-46 were outlandish compared to what we believe today. Far-fetched and grotesque accusations of sadistic methods of killing were made against camp authorities and guards and then soberly reported in the world's news outlets. Continue reading at Elie Wiesel Cons The World