Ronald Lauder warns of new catastrophe for Jews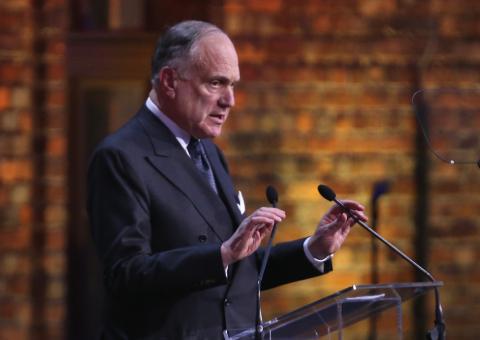 Ronald Lauder, President of the World Jewish Congress (WJC), used an angry tone to demand protection of Jews from the assembled guests at the 70th Anniversary ceremony at the Auschwitz-Birkenau Museum on Jan. 27.
By Carolyn Yeager
Ronald Lauder is a man who is used to telling other people what to do.
In his speech on Tuesday at the Auschwitz-Birkenau 70th anniversary ceremony, he told the assembled Jews to force their governments to protect them from antisemitism because "antisemitism leads to places like Auschwitz." Note he didn't tell Jews to protect themselves, but that their governments must do it for them.

He also told the world what it must do – "All countries must make hate a crime."
But Lauder didn't even try to explain the cause of antisemitism. He said, "For 70 years, no one can explain Auschwitz." He said Jews are hated "because they're Jews." Well, that's a start. There's something about Jews that others don't like. What could it be?
Lauder used his speech to blame everyone but Jews. He said "the Nazis designed the Holocaust, but there was complicity from almost every country in Europe." (This brought on applause)
He wondered how it was that antisemitism and what he called the "demonization of Jews" had come back after WWII & the Shoah had made it virtually impossible to criticize Jews. His answer to that: "The creation of the world's only Jewish state became a new opportunity to attack Israel."
Please continue reading at carolynyeager.net