The Passing of an Era – Remembering Willy Wenger 1926-2017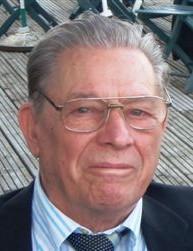 I AM EXTREMELY SAD TO REPORT THE DEATH OF MY DEAR FRIEND AND COLLABORATOR, WILLY WENGER. Willy died of heart failure on Thursday, JULY 20 (the 73rd anniversary of the attempted assassination of Adolf Hitler known as Operation Valkyrie) at home in Austria. He was 91. I was informed by his family, his daughter Sonia and his wife of over 60 years, Wilma.

I like the picture at left (taken when he was 87) because I think it shows the strength of this man and the pain and loss he endured in his life ... but with a buoyant heart.
Willy had his share of health problems during the last few years, but carried on valiantly to keep up with all his contacts and commitments. Though short in physical stature, he had a great, even towering, spirit within him. He loved his family, his country and his friends, and never turned down a request to serve them. It was my privilege to have known him. Continue reading at Carolyn Yeager