New from Carolyn Yeager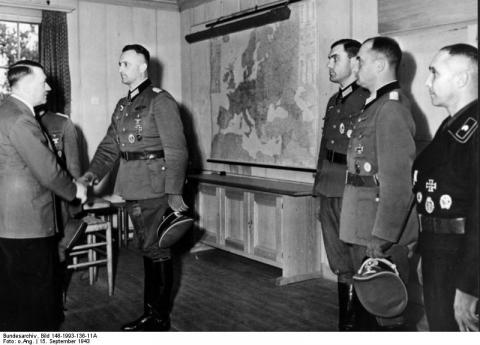 Adolf Hitler greets and decorates officers at his Wolfsschanze headquarters in East Prussia in 1943.
INTRODUCTION by Carolyn Yeager

This unrehearsed talk was taken down by stenographers at the time it was given by Adolf Hitler to his top officers. A single typed copy exists in the archives of the Institut für Zeitgeschichte in Munich, Germany. To obtain it, a Munich woman familiar with the Institute had to go there in person and request it, then make a copy on the premises, after which she mailed the copied pages to me for a fee. It consists of 70 typed, double-spaced pages, with some words on every page illegible because of fold marks.
I made 3 sets of copies and mailed them to 3 persons, one of which was Carlos Porter, who agreed to translate it--a really hard job considering the length and the poor quality of the original. I asked Carlos to do the translation in a more or less direct fashion, not concerning himself overmuch with the quality of the prose. I wanted the exact idea of what the Fuehrer said and meant. Since I'm not in the business of selling books for a profit,  the ease of readability for the general public is not my first concern. My first concern is a very clear rendition of the ideas Hitler was expressing to his audience.  Continue reading at carolynyeager.net
*        *         *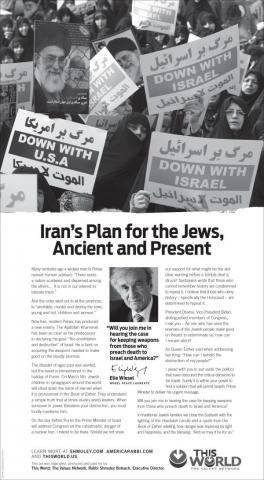 Elie Wiesel is featured in a new full-page ad placed in The New York Times and the Washington Post that is headlined: Iran's Plan for the Jews, Ancient and Present
The ad is was organized, produced and paid for by New Jersey Rabbi Shmuley Boteach's "This World: The Values Network.US, an organization of which Boteach is Executive Director. More than likely, Boteach wrote the ad and submitted it to Wiesel, who approved it … for a fee.
They use the totally fictional Book of Esther to suggest that a "wicked man" named Haman, a minister of the Persian King (whose biblical name is not mentioned in the ad since it is not historical) was discovered as having a plan to kill all the Jews in the kingdom. But a beautiful Jewish girl in the royal harem got word of it and told the King, who then discovered the plot to be true and hanged the wicked Haman and all of his accomplices. This has become the Feast of Purim celebrated every March 5 when "Jewish children in synagogues around the world will shout down the name of Haman when it is pronounced in the Book of Esther." After which each good little Jewish child receives a cookie in the shape of Haman, allowing them to destroy Haman all over again by eating the cookie. Continue reading at Elie Wiesel Cons The World