Martin Gray: Another Polish Jew surlievor* who wanted his people to be seen as heroic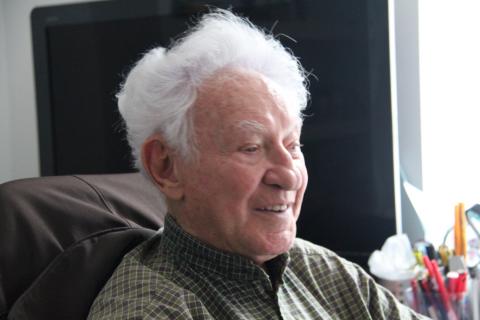 Martin Gray in old age. Throughout his life as an entrepreneur, he wrote a number of books, but his most famous one was written by someone else.
By Carolyn Yeager
When I myself told Gray, the "author", that he had manifestly never been to, nor escaped from Treblinka, he finally asked, despairingly: "But does it matter?" Wasn't the only thing that Treblinka did happen, that it be written about, and that some Jews should be shown to have been heroic? -Gitta Sereny, holocaust historian
The French writer Martin Gray, known for his autobiographical book For those I loved, was found dead in the pool of his house in Ciney, Belgium on 25 April 2016 at the age of 93.
So read the newspaper report when his death was announced. But French? Martin Gray was born Mieczysław Grajewski on the 27th of April, 1922 in Warsaw, which made him 17-years old when the Germans and Russians invaded Poland in 1939. Yet in his "autobiographical" book he is only 14 years of age in that year.
September 1939: the month of my real birth. I know almost nothing of the previous fourteen years. [page 3]
Lowering your age is in the tradition of holocaust surliever stories. Elie Wiesel removed a year from his real-life age in his "autobiographical" Night. He took 3 years off his younger sister's age—she went from ten to seven. Paul Argeiwicz, whom I recently wrote about, reduced his age by five years, from 16 to eleven. It goes in the other direction too. There is a holocaust surlievor in the news recently who claims to be 112 years old. He lives in Israel. I don't believe for a minute he is that old; he doesn't look it but gives credit to a "positive attitude." More likely, he got different papers after the war. There is also a female surlievor who claims she is 97, but looks more like 79. (More pictures here.) They all have some purpose in fiddling with their age – Continue reading at Elie Wiesel Cons The World
*Note: Surlievor = a survivor who lies about what he/she survived