Listen to The Heretics' Hour Monday night
Does Germany owe Greece ... anything?
Monday, April 13th at 8pm Central U.S. time (9pm Eastern, 6pm Pacific) on Carolyn Yeager Uncensored
Go here for tonight's pre-recorded show on Blogtalk at 8pm Central.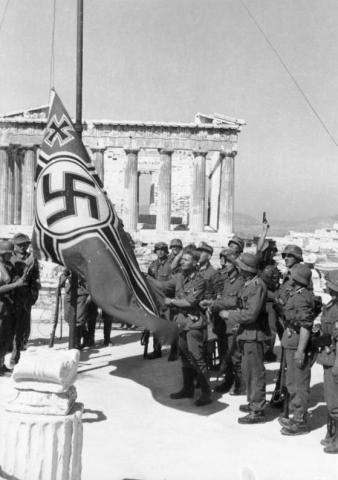 Greece has come up with "war crimes" from WWII against "Nazi" Germany that they want today's German government to compensate them for, and which they say amount to several hundred billions of euros. Germany's economy minister has called it "stupid" but the new Greek government, with a communist at its head, isn't giving up. Are these legitimate claims or just another instance of wanting to "stick it to Germany?" Carolyn looks into the historical background of the claims and at what some financial experts say.
Image: German soldiers raise the Reichskriegsflagge over the Acropolis at Athens in 1941. Enlarge

See you then,
Carolyn