Listen to The Heretics' Hour Monday night
Jews prepare to ensnare Europe with new 'tolerance law' rooted in "Holocaust"

Monday, Feb. 2nd at 8pm Central U.S. time (9pm Eastern, 6pm Pacific) live on Carolyn Yeager Uncensored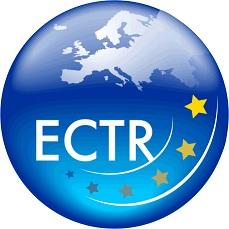 While "White Power" has continued to diminish in the world, Jews are on the verge of slipping through a 28-country, Europe-wide criminalization of antisemitism, "blood libels", anti-feminism, homophobia, and holocaust denial, among other beliefs they do not wish to tolerate. This Orwellian legislation is titled "A European Framework National Statute for the Promotion of Tolerance." If it becomes law, Europe will belong to the Jews forevermore and all White Europeans will be subservient to lower forms of humanity.
Carolyn Yeager explains how the basis of this is still "The Holocaust" and what needs to be done to stop it.
Image: Logo for the European Council on Tolerance and Reconciliation is designed to look like it's part of the EU but it isn't. The same blue color and the stars beginning to form a circle are meant to create a false impression.
See you then,
Carolyn